1. Cincinatti Bengals: Joe Burrow, QB, LSU
We really don't need an explanation for this.
2. Washington Redskins: Chase Young, DE, Ohio State
Best player in the draft, the Redskins better pick Young.
3. Detroit Lions: Jeff Okudah, CB, Ohio State
Even thought the Lions signed Desmond Trufant, they still need to find a new CB1/CB2 since they traded Darius Slay. Okudah is the best corner in this draft, which will be a great fill in that position.
4. New York Giants: Isaiah Simmons, Defense, Clemson
The Giants still need offensive line help, but this draft is deep in that category. The Giants can't miss out on Simmons with the new age of defensive versatility.
5. Miami Dolphins: Tua Tagovailoa, QB, Alabama
Quite frankly, I'm not a fan of the Dolphins going after Tua since they traded for Josh Rosen last year, but this seems like the favorable match, if no team trades up.
6. Los Angeles Chargers: Justin Herbert, QB, Oregon
The Chargers need a QB after Philip Rivers heading to Indy. The Chargers seem fine with rolling with Tyrod Taylor for the 2020-2021 season, but he clearly isn't the QB of the future.
7. Carolina Panthers: Mekhi Becton, OL, Louisville
This offseason the Panthers have lost a lot of notable players and it seems like they should add defense, but I think a young OT can help with the acquisition of Teddy Bridgewater. Protect QB1.
8. Arizona Cardinals: Tristan Wirfs, OL, Iowa
What an offseason for the Cardinals. The offense is going to be fun to watch, but a big issue last year was Kyler Murray getting chased around by the defense. Protect QB1 so he has time to find his dangerous weapons.
9. Jacksonville Jaguars: Derrick Brown, DL, Auburn
The Jaguars, man… I'm sorry, but they need a lot now. Just a few years ago they were one game away from the Super Bowl and here they are. The defense is gone and it's time to rebuild it. The Jags traded Campbell, so let's bring in the best DT in the draft.
10. Cleveland Browns: Andrew Thomas, OL, Georgia
This offseason the Browns have lost a lot on defense, but I think they still address the offense by protecting Baker Mayfield. There are only two tackles listed on the Browns depth chart, so Thomas will easily see some playing time in a position the Browns need help.
11. New York Jets: CeeDee Lamb, WR, Oklahoma
With a lack of talent at receiver and now losing Robby Anderson, it makes sense to get a weapon for Sam Darnold.
12. Las Vegas Raiders: Jerry Jeudy, WR, Alabama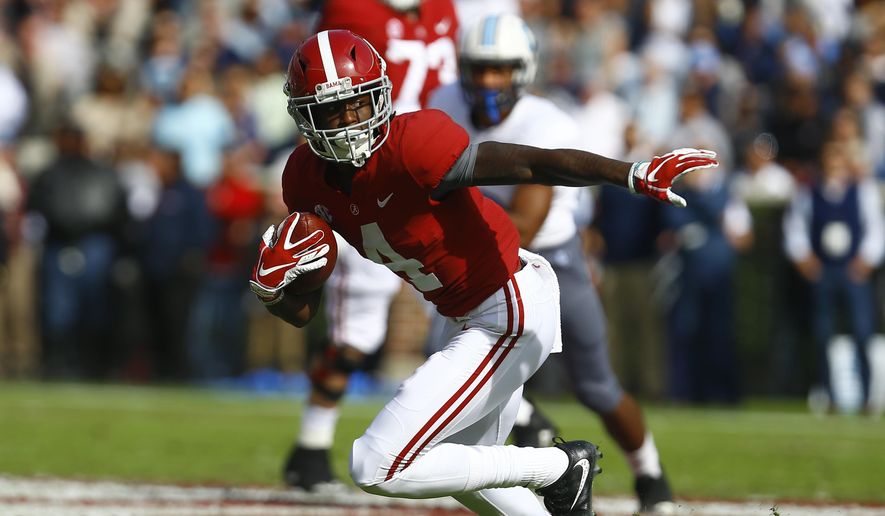 The Raiders are looking good and I like what they have done for the past two years. They mostly have addressed the defense, but time to add a big-time playmaker for Derek Carr.
13. San Francisco 49ers (via IND): Javon Kinlaw, DL. South Carolina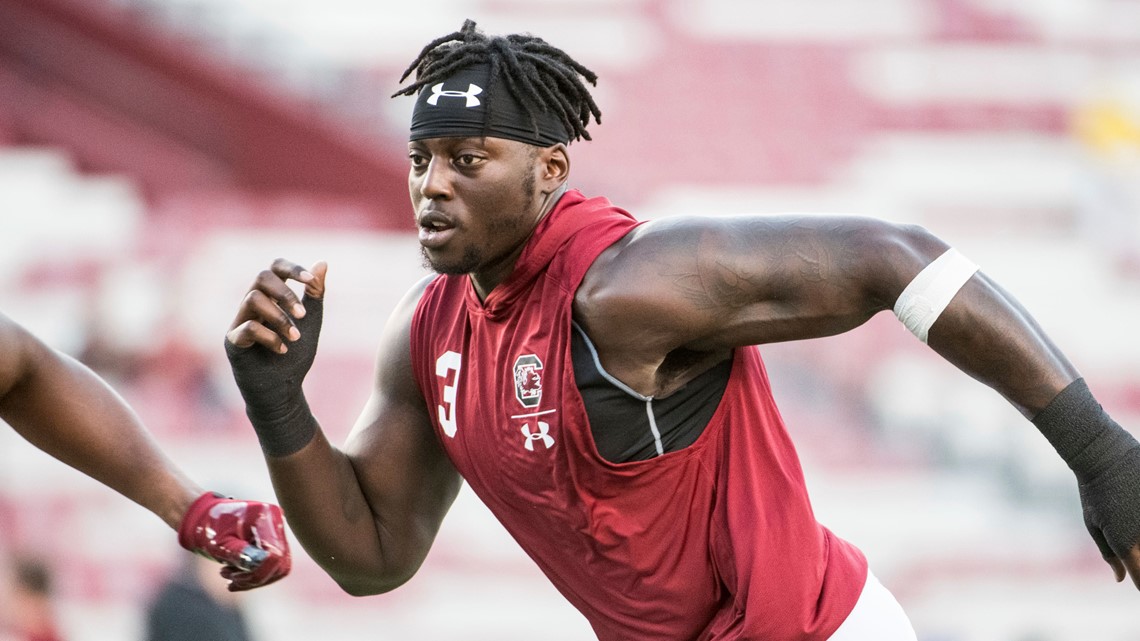 With the 49ers trading DeForest Buckner, it makes sense to find his replacement, but I wouldn't be shocked if they went a WR or OL with this pick.
14. Tampa Bay Buccaneers: Jedrick Willis Jr.,OL, Alabama
TB12 is heading to TB. Protect him at all cost. Enough said.
15. Denver Broncos: Henry Ruggs III, WR, Alabama
The Broncos need a receiver across from Courtland Sutton and I like Henry Ruggs to be that player. Good speed at 4.27 seconds on the 40-yard dash and is a big play waiting to happen at any time. Lock, Gordon, Lindsay, Freeman, Sutton, Ruggs, and Fant is a very underrated offense.
16. Atlanta Falcons: CJ Henderson, CB, Florida
This offseason the Falcons have addressed the offensive side of the ball, so it would make sense to look at the defense, especially after losing Trufant to the Lions.
17. Dallas Cowboys: K'Lavon Chaisson, DE, LSU
It seemed like the Cowboys were going to be all in on a safety in the draft, but with the signing of HaHa Clinton-Dix and letting Robert Quinn go to the Chicago Bears, it makes sense to fill that hole on the defensive line.
18. Miami Dolphins (via PIT): Josh Jones, OL, Houston
After trading Laremy Tunsil, the Dolphins need to fill that offensive line, especially for their new QB.
19. Las Vegas Raiders (via CHI): Kristian Fulton, CB, LSU
Even though the Raiders added Eli Apple, he has been inconsistent these past few years. Raiders will go defense and either roll with a slot corner or feel comfortable rotating corners.
20. Jacksonville Jaguars (via LAR): Xavier McKinney, S, Alabama
Jaguars need help everywhere on defense and getting a safety like McKinney should be very good.
21. Philadelphia Eagles: Justin Jefferson, WR, LSU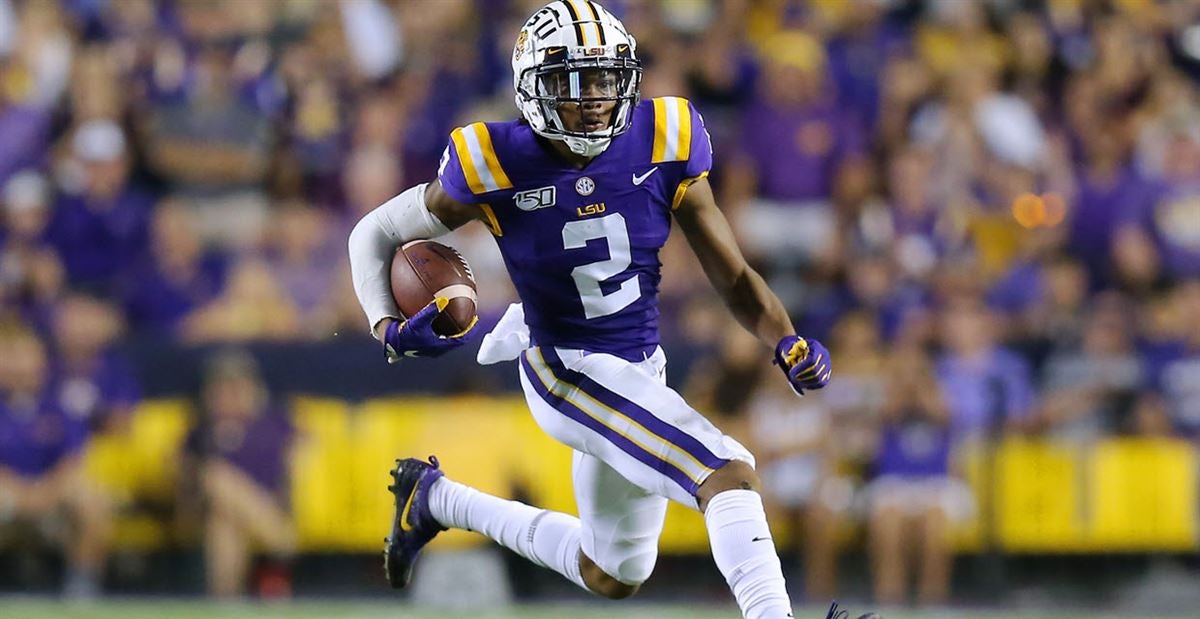 I don't care who's available, but Carson Wentz needs to throw to someone… I do think Jefferson or Tee Higgins could be the perfect fit in Philly, but Jefferson makes the most sense.
22. Minnesota Vikings (via BUF): Noah Iginoghene, CB, Auburn
After losing Xhavier Rhodes, the Vikings need a new corner.
23. New England Patriots: Patrick Queen, LB, LSU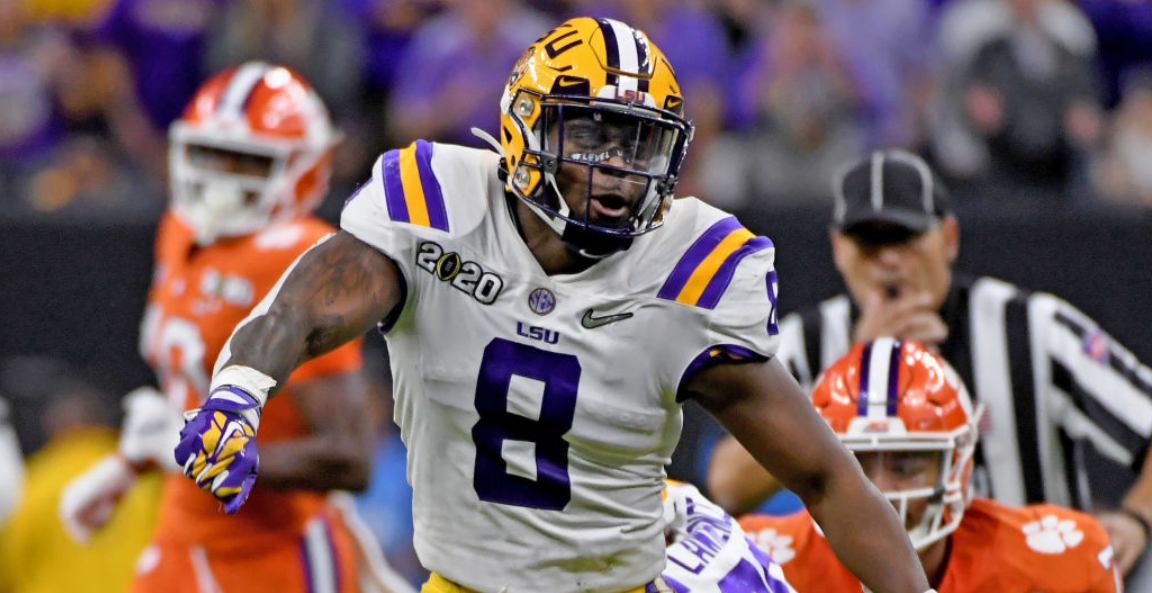 No Tom Brady? No star offensive weapons? The Patriots will still look to strengthen that powerful defense. Plus sticking with Jarrett Stidham, finding a mid-round QB or tanking for Trevor Lawrence/Justin Fields isn't bad either.
24. New Orleans Saints: Trevon Diggs, CB, Alabama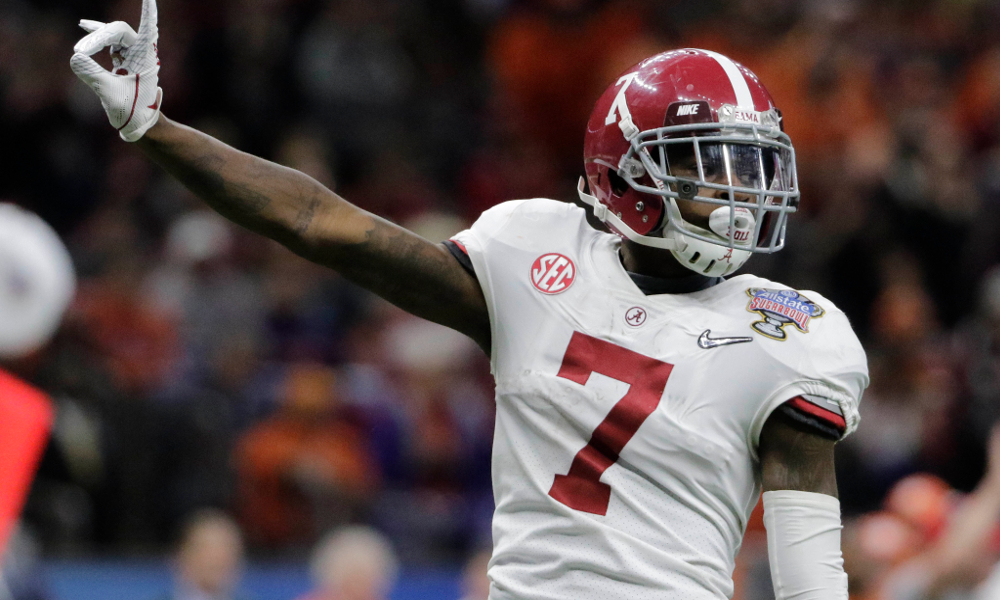 The Saints have very few holes, but it doesn't hurt to add another corner in a pass-happy NFC South where there's Tom Brady, Mike Evans, Chris Godwin, OJ Howard, Matt Ryan, Julio Jones, Calvin Ridley, Todd Gurley, Hayden Hurst, Teddy Bridgewater, DJ Moore, Robby Anderson, Christian McCaffrey, and Curtis Samuel.
25. Minnesota Vikings: Yetur Gross-Matos, DE, Penn State
The Vikings lost a lot on defense and they need someone to help Danielle Hunter on the defensive line.
26. Miami Dolphins (via HOU): Grant Delpit, S, LSU
With the third pick in the draft already, the Dolphins can go in a lot of directions, but I would like to see them get a stud player in their secondary. Xavien Howard, Byron Jones and Grant Delpit is a very scary secondary.
27. Seattle Seahawks: Austin Jackson, OL, USC
I do think the Seahawks can look defense, but I think adding Jackson could be beneficial since Duane Brown's time could be running out in Seattle.
28. Baltimore Ravens: Kenneth Murray, LB, Oklahoma
The Ravens defense (and team) is quick and they need a replacement ever since CJ Mosley left for the Jets. Murray brings that quickness and explosiveness and fills a much-needed hole for the Ravens.
29. Tennessee Titans: A.J. Espenesa, DE, Iowa
With cutting Cameron Wake, the Titans will look to fill that hole on the defensive line and Espenesa would be a nice pick up.
30. Green Bay Packers: Denzel Mims, WR, Baylor
I'm not exactly sure how I feel with this pick, but their have been reports on the Packers being all over Mims. He's a quick, tall and athletic receiver that has shot up draft boards because of a very impressive combine. The Packers have options with Tee Higgins, Jalen Reagor and others available.
31. San Francisco 49ers: Tee Higgins, WR, Clemson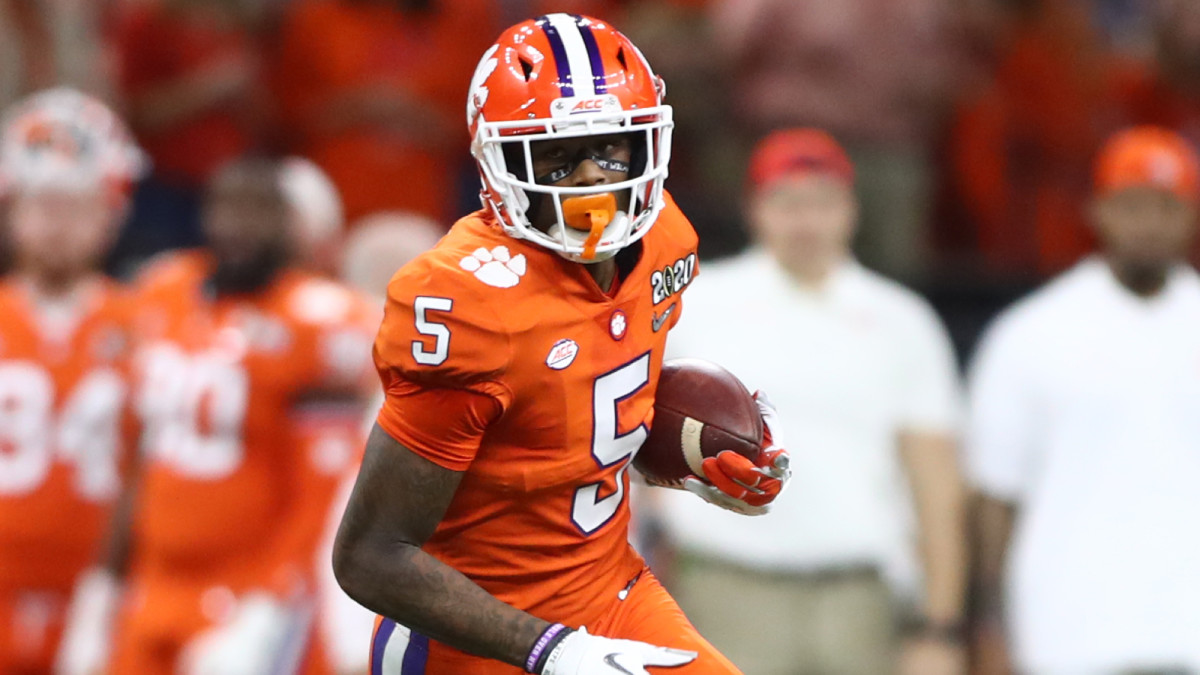 With Emmanuel Sanders heading to New Orleans, I would expect the 49ers to add another weapon for Jimmy G. Instead of a speed threat, perhaps they add a massive target in Higgins.
32. Kansas City Chiefs: A.J. Terrell, CB, Clemson
There's a lot of options the Chiefs can go here, but I want them to keep blossoming their defense, especially in the secondary.