Key Additions: Tyrann Mathieu, Alex Okafor, Frank Clark, Damien Wilson, LeSean McCoy, Morris Claiborne, Bashaud Breeland, Juan Thornhill, Mecole Hardman, Khalen Saunders
Key Returns: Anthony Sherman, De'Anthony Thomas
Key Departures: Mitch Morse, Steven Nelson, Justin Houston, Allen Bailey, Demetrius Smith, Chris Conley, Spencer Ware, Orlando Scandrick, Kareem Hunt, Eric Berry, Dee Ford
| | | |
| --- | --- | --- |
| Week 1 | Sept. 8th 1:00 PM ET | @ Jacksonville Jaguars (CBS) |
| Week 2 | Sept. 15th 4:05 PM ET | @ Oakland Raiders (CBS) |
| Week 3 | Sept. 22nd 1:00 PM ET | vs. Baltimore Ravens (CBS) |
| Week 4 | Sept. 29th 1:00 PM ET | @ Detroit Lions (FOX) |
| Week 5 | Oct. 6th 8:20 PM ET | vs. Indianapolis Colts (NBC) |
| Week 6 | Oct. 13th 1:00 PM ET | vs. Houston Texans (CBS) |
| Week 7 | Oct. 17th 8:20 PM ET | @ Denver Broncos (FOX) |
| Week 8 | Oct. 27th 8:20 PM ET | vs. Green Bay Packers (NBC) |
| Week 9 | Nov. 3rd 1:00 PM ET | vs. Minnesota Vikings (FOX) |
| Week 10 | Nov. 10th 1:00 PM ET | @ Tennessee Titans (CBS) |
| Week 11 | Nov. 18th 8:15 PM ET | @ Los Angeles Chargers (ESPN) |
| Week 12 | Bye Week | |
| Week 13 | Dec. 1st 1:00 PM ET | vs. Oakland Raiders (CBS) |
| Week 14 | Dec. 8th 4:25 PM ET | @ New England Patriots (CBS) |
| Week 15 | Dec. 15th 1:00 PM ET | vs. Denver Broncos (CBS) |
| Week 16 | Dec. 22nd 8:20 PM ET | @ Chicago Bears (NBC) |
| Week 17 | Dec. 29th 1:00 PM ET | vs. Los Angeles Chargers (CBS) |
Let me get this out of the way right now… this year the Kansas City Chiefs are going to be an absolute cheat code in the NFL. This year the Chiefs will be something you see out of Madden on rookie mode. Unfortunately, last year the Chiefs fell in overtime in the AFC Championship Game to the New England Patriots 37-31, which sparked a huge debate (again) on whether the team that allowed a touchdown on the first possession should have a chance to answer back. Disclaimer: As a Packers fan, I agree that rule needs to change, especially in the playoffs.
Let's not dwell on that though, because man, this season has "special" written all over it. Starting with the offense, we know what that unit can bring with Patrick Mahomes leading the way. Mahomes has his crew insisting of Travis Kelce, Tyreek Hill, Sammy Watkins, Mecole Hardman, Demarcus Robinson, Damien Williams, and now LeSean McCoy. It's flat out scary. I know it's going to be hard for Mahomes to reach 50 touchdowns again, but he's just too talented and his weapons have the athleticism, speed, and tools that are going to be a nightmare for defenses to cover.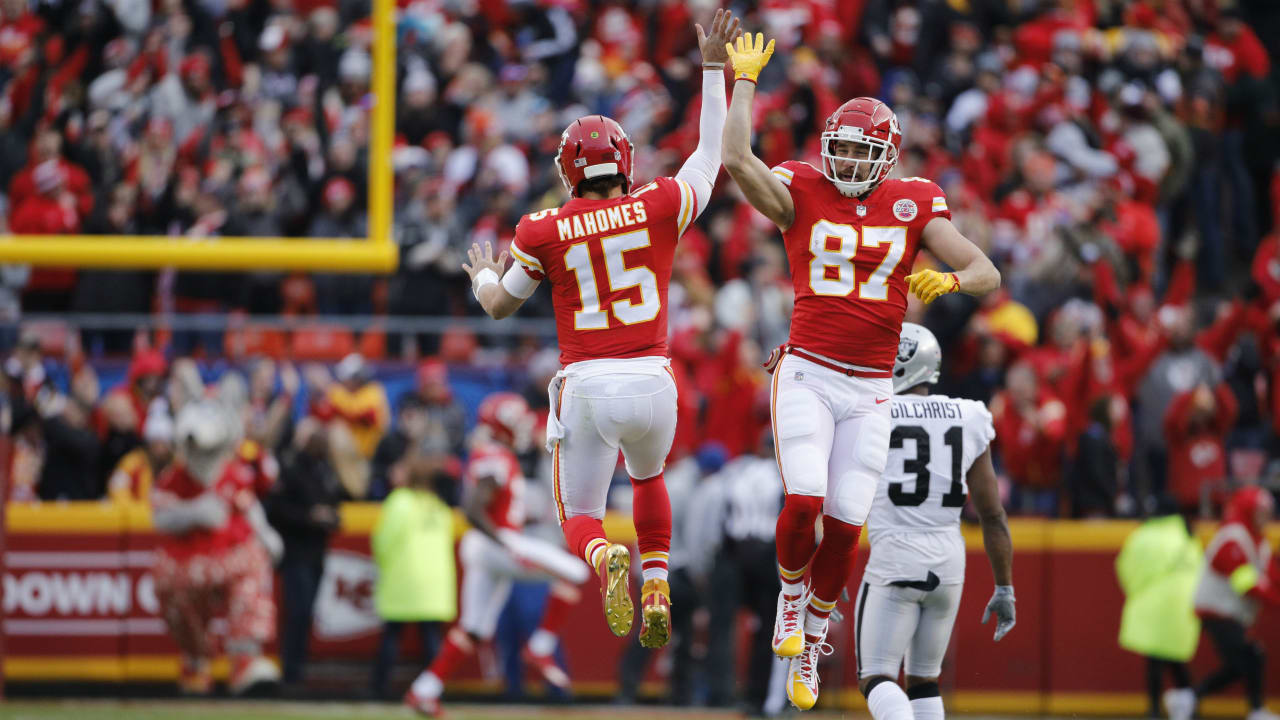 Now, even though the offense is a juggernaut, I'm really interested in how this defense can perform. Last year they allowed the second-most yards per game (405.5) and was ranked 24th in points allowed per game (26.3). The Chiefs addressed these defensive problems in the off-season as they acquired Frank Clark (via Seattle) and went defensive heavy in free agency as they signed Tyrann Mathieu, Morris Claiborne, and Bashaud Breeland while drafting Juan Thornhill (Virginia).
It does stink seeing Eric Berry getting released by the Chiefs, but it's a business and the Chiefs got better by bringing in Mathieu. The Thornhill selection in the second round was also a nice move and I agree with ESPN NFL Analyst Louis Riddick when he says Thornhill will be a difference-maker. He and Mathieu are going to be fun to watch. Claiborne and Breeland are going to be fun to watch as well. Claiborne has shown flashes of great coverage, but isn't consistent, while Breeland has shown that, but has had some injury issues. I mentioned above that I'm a Packers fan, I do think Breeland will do big things for the Chiefs. Those two have also signed one-year deals, so these are "prove it" deals that can really benefit the Chiefs.
Looking at the schedule for the Chiefs, I don't see how they can't go 5-0 to start the season. It's pretty crazy how easy the first five weeks are, especially with the whole Andrew Luck retiring situation. Even though they are favorites against the Texans, Broncos, Packers, Vikings, and Titans, I wouldn't take those teams too lightly, because they are contending playoff teams. The Chiefs do have some tough games like the Chargers twice, the Patriots and the Bears, but I have all the confidence in the world that the Chiefs can lose just one of those games. It's a pretty easy schedule for the Chiefs and I would imagine they win the AFC West again and hold the number one seed because of that.
The Chiefs have always been in that "This is our year" mentality for a few seasons now, but I truly believe this season is the year. The Chiefs made some huge improvements on defense, kept and added weapons on offense, and have the easy schedule. The Chiefs are going to just tear up the NFL, put up historic numbers and will be hoisting the Lombardi Trophy.