Key Additions: Shamar Stephen, Bene Benwikere, Garrett Bradbury, Irv Smith Jr., Alexander Mattison, Dru Samia
Key Returns: Anthony Barr, Dan Bailey, Ameer Abdullah
Key Departures: Sheldon Richardson, Nick Easton, Josh Kline, Latavius Murray, Mike Remmers, George Iloka, Andrew Sendejo, Tom Compton
| | | |
| --- | --- | --- |
| Week 1 | Sept. 8th 1:00 PM ET | vs. Atlanta Falcons (FOX) |
| Week 2 | Sept. 15th 1:00 PM ET | @ Green Bay Packers (FOX) |
| Week 3 | Sept. 22nd 1:00 PM ET | vs. Oakland Raiders (FOX) |
| Week 4 | Sept. 29th 4:25 PM ET | @ Chicago Bears (CBS) |
| Week 5 | Oct. 6th 1:00 PM ET | @ New York Giants (FOX) |
| Week 6 | Oct. 13th 1:00 PM ET | vs. Philadelphia Eagles (FOX) |
| Week 7 | Oct. 20th 1:00 PM ET | @ Detroit Lions (FOX) |
| Week 8 | Oct. 24th 8:20 PM ET | vs. Washington Redskins (FOX) |
| Week 9 | Nov. 3rd 1:00 PM ET | @ Kansas City Chiefs (FOX) |
| Week 10 | Nov. 10th 8:20 PM ET | @ Dallas Cowboys (NBC) |
| Week 11 | Nov. 17th 1:00 PM ET | vs. Denver Broncos (CBS) |
| Week 12 | Bye Week | |
| Week 13 | Dec. 2nd 8:15 PM ET | @ Seattle Seahawks (ESPN) |
| Week 14 | Dec. 8th 1:00 PM ET | vs. Detroit Lions (FOX) |
| Week 15 | Dec. 15th 8:20 PM ET | @ Los Angeles Chargers (NBC) |
| Week 16 | Dec. 23rd 8:15 PM ET | vs. Green Bay Packers (ESPN) |
| Week 17 | Dec. 29th 1:00 PM ET | vs. Chicago Bears (FOX) |
Things didn't go as plan for the Minnesota Vikings last season as they had their eyes on the Super Bowl but finished 8-7-1 after they reached the NFC Championship game a year before. There were a lot of reasons for an average season, as the poor offensive line, Kirk Cousins not winning the big games and some issues at the Offensive Coordinator position. This year the Vikings hope to fix those issues and get back on top the NFC North.
Last year, the offensive line was brutal to watch, but this year the Vikings addressed their main weakness and drafted center Garrett Bradbury and guard Dru Samia. Bradbury had a great career at NC State and has been having an excellent summer. He's looking elite as the only issue people are seeing is that he sweats too much. If that's the problem for this guy, that might be pretty good. The pass-protection should be good for the Vikings and I'm going to be intrigued on how the running game will be this year.
Okay, I'm not big on the Cousins slander as last year he threw for 4,298 yards, 30 TD, 10 INT and had a 99.7 rating. Yes, he can't win the big games and he couldn't win any with the Redskins, but at some point that has to change right? I think this could be the year, because there's a lot of big game that the Vikings simply have to win to be good. They got the Kansas City Chiefs, Los Angeles Chargers, Dallas Cowboys, Philadelphia Eagles, Green Bay Packers (twice), Chicago Bears (twice) and Atlanta Falcons. Like, we can expect these teams to be good, I don't see how Cousins wouldn't win some of those big games, especially with an improved offensive line, a new Offensive Coordinator and the best WR duo of Adam Thielen and Stefon Diggs.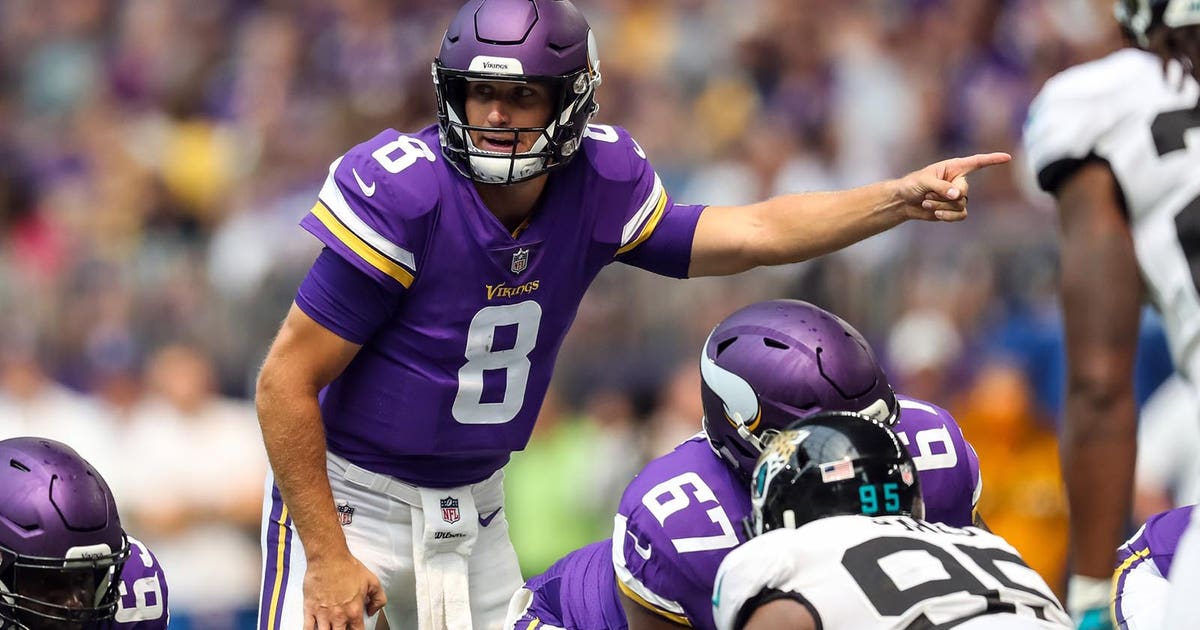 Kevin Stefanski seems like the right fit. I like the idea they are going to run more, because Delvin Cook, when healthy, is an exciting player to watch and then Alexander Mattison from Boise State is electric. Plus, more running means less weigh on Cousins' shoulders. He stays healthy, the offense becomes unpredictable for defenses and hopefully, there's less criticism.
The defense for the Vikings, where do I start? It's, of course, going to be a great unit. I'm a little disappointed that there's not much buzz around the defense, but I understand since the Bears defense was unbelievable and the Packers got some big free agency acquisitions, but I wouldn't just forget about the Vikings. Danielle Hunter, Everson Griffen, Linval Joseph, Eric Kendricks, Anthony Barr, Trae Waynes, Xavier Rhodes, Harrison Smith, and Anthony Harris, like come on, this is going to be another year of a great defense.
Overall, I think the Vikings are ready for a big year. They have the talent, they addressed their biggest weakness and have a prosperous coaching staff going into 2019. There are no more excuses as this team should have a chance to win the NFC North and compete for a Super Bowl, but can Kirk Cousins step up and lead this team?