Rewind to September 30th, 2017. The Milwaukee Brewers just lost a heartbreaking game to the St. Louis Cardinals 7-6 thus eliminating them from play-off contention. It was a season no Brewer fan, heck even general manager David Stearns, could have imagined. Regardless, the Brewers learned two things: They have lots of talent coming out of the farm systems and every game counts.
Fast forward to May 13, 2018. With the Brewers in need of a spot starter, David Stearns decided to roll the dice on prospect Freddy Peralta. Peralta, who was acquired in a trade during the 2015 offseason with the Seattle Mariners, was one of David Stearns first trades.  At the time of making his MLB debut, Peralta had pitched just 34.2 innings at Triple-A. As you know, Peralta would go on to have a record-setting  thirteen strikeout MLB debut. He covered 5.2 innings in his MLB debut and surrendered only one hit. Peralta would go on to start one more game in May for the Brewers before being optioned to Triple-A. As history goes, Peralta would be recalled later in the season and was a key contributor in the Brewers push to win the division and playoff success.
On May 14, 2019, about one year later, the Brewers called up a hot-hitting prospect out of UC-Irvine. That player, who was drafted in the first round of the 2017 draft, is Keston Hiura. At the MLB level, Hiura is slashing .307/.376/.594 and has an OPS of .969 in 192 at-bats. He is a rookie that's helping to carry the load for a 2019 Brewers team that is contending for a second straight division title.
A few months later it is August 1st, 2019,  and Trent Grisham makes his MLB debut. Prior to his debut, he had hit for the cycle with two home runs! It was obvious that Grisham hit his way to the MLB level, but what is more impressive is that he earned his promotion in just 34 games. During those 34 games he slashed .381/.471/.776 and an OPS of 1.247! Those numbers are eye-popping and certainly played a factor in calling  up Grisham after so few games. With the Brewers, Grisham has 6 hits in his first 6 games to go along with 5 RBIs. He certainly has helped the Brewers over the last week and is making a case for more playing time because of his quality hitting.
Six days after the debut of Grisham, Devin Williams made his MLB debut. Williams, a 2013 first-round pick, pitched a total of 1.2 innings at the Triple-A level before being promoted. He did pitch 53.1 innings in Double-A and posted a 2.36 ERA with 76 strikeouts, but for a prospect to get promoted after one game in Triple-A is extremely rare.
While it is still way too early to see the impact Grisham and Williams will have on this 2019 Brewers team, it is clear Stearns is not hesitating to call up the "hot hand" despite their lack of Triple-A experience. Stearns made a similar "hot hand" move with Peralta in 2018 and it paid off big time, so it certainly is worth the gamble even if only Grisham or Williams turns out to be impact players. If 2017 taught us anything, it is that having one player who is having a break out year and riding the "hot hand" can be the difference between a playoff berth and a successful season.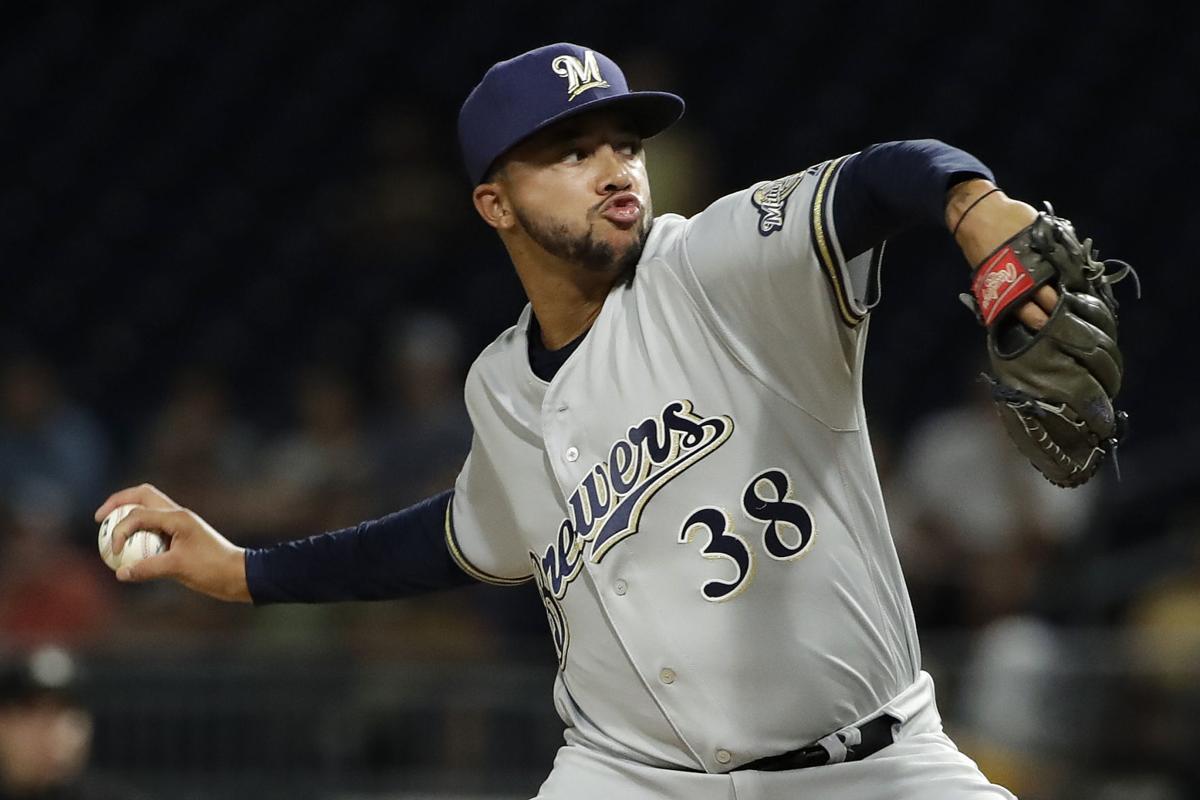 How many other "hot hands" can the Brewers add this season? Trey Supak comes to mind. He is currently on the Brewers 40-man roster and has logged a 2.20 ERA in 122.2 innings at Double-A. He has only pitched 11.2 innings at Triple-A but has struck out 14 batters and is very deserving of a chance with the Brewers. Ray Black also comes to mind. While he made his MLB debut for the San Francisco Giants in 2018, he has only pitched a career 50.1 innings at Triple-A between multiple teams/seasons. Regardless both guys have the "hot hand" trait this season which seems to be the 2019 Brewers team trend.
It is worth nothing that other notable Brewer pitchers Brandon Woodruff, Corbin Burnes, and Josh Hader all had substantial Triple-A experience before their promotions. Woodruff logged 75.1 innings over 16 starts prior to his MLB debut in August of 2017, Burnes 78.2 innings before his debut on July 10, 2018, and Hader 121 innings at Triple-A before his debut in June 2017.