Key Additions: Odell Beckham Jr., Kareem Hunt, Olivier Vernon, Sheldon Richardson, Morgan Burnett, Eric Murray, Jaelen Strong, Eric Kush
Key Departures: Kevin Zeitler, Jabrill Peppers, Emmanuel Ogbah, Brien Boddy-Calhoun, Ricardo Louis, Derrick Kindred, Breshad Perriman, Jamie Collins
Key Returns: Greg Robinson, Phillip Gaines, Rashard Higgins, Trevon Coley
| | | |
| --- | --- | --- |
| Week 1 | Sep. 8th 1:00 PM ET | vs. Tennessee Titans (CBS) |
| Week 2 | Sep. 16th 8:15 PM ET | @ New York Jets (ESPN) |
| Week 3 | Sep. 22nd 8:20 PM ET | vs. Los Angeles Rams (NBC) |
| Week 4 | Sep. 29th 1:00 PM ET | @ Baltimore Ravens (CBS) |
| Week 5 | Oct. 7th 8:15 PM ET | @ San Francisco 49ers (ESPN) |
| Week 6 | Oct. 13th 1:00PM ET | vs. Seattle Seahawks (FOX) |
| Week 7 | Bye Week | |
| Week 8 | Oct 27th 4:25 PM ET | @ New England Patriots (CBS) |
| Week 9 | Nov. 3rd 4:25 PM ET | @ Denver Broncos (CBS) |
| Week 10 | Nov 10th 1:00 PM ET | vs. Buffalo Bills (CBS) |
| Week 11 | Nov 14th 8:20 PM ET | vs Pittsburgh Steelers (FOX) |
| Week 12 | Nov 24th 1:00 PM ET | vs. Miami Dolphins (CBS) |
| Week 13 | Dec. 1st 4:25 PM ET | @ Pittsburgh Steelers (CBS) |
| Week 14 | Dec. 8th 1:00 PM ET | vs. Cincinnati Bengals (CBS) |
| Week 15 | Dec. 15th 4:05 PM ET | @ Arizona Cardinals (CBS) |
| Week 16 | Dec. 22nd 1:00 PM ET | vs. Baltimore Ravens (CBS) |
| Week 17 | Dec. 29th 1:00 PM ET | @ Cincinnati Bengals (CBS) |
2018 was a huge year for the Cleveland Browns. Looking at their record at 7-8-1 you wouldn't think that, but considering it was their best record since 2007, and after finishing last in their division nine of the last ten years, it was a major improvement. On top of that, it was John Dorsey's first year as GM after turning a last-place Kansas City Chiefs team into a consistent contender. Dorsey used the draft to immediately improve their offense into an offense with some scary good potential.
Dorsey drafted Baker Mayfield, Nick Chubb, and Austin Corbett who all stepped into starting jobs. Mayfield looked like the franchise quarterback they needed, breaking the rookie record for most touchdown passes in only 13 games as a starter. Chubb rushed for nearly 1,000 yards in only nine games as a starter. Dorsey not only improved the offense as he drafted cornerback Denzel Ward, who was one of six rookies to make the Pro-Bowl.
Halfway through the season the Browns fired head coach Hue Jackson and promoted Gregg Williams to interim head coach. Under Williams the Browns finished 5-3, but the big move in the Jackson firing was promoting Freddie Kitchens to offensive coordinator. The Browns finished the season as a top 15 offense, and going into 2019 there's no reason the Browns couldn't improve into a top 10. The main problem with the Browns in 2018 was their defense. They finished 30th in yards allowed and 21st in points allowed. It wasn't all bad though as they did rank fifth in interceptions and sixth in fumble recoveries.
Going into 2019 the Browns have already addressed the defensive issue with a defensive focused draft as five of their seven picks were defensive players. Dorsey has a thing for LSU players as he drafted cornerback Greedy Williams in the second round, who should step in and start next to Denzel Ward. They also took safety Sheldrick Redwine (Miami (FL)), who the Browns are looking to step into their safety/linebacker position that they use with their new 4-2-5 defense.
With the loss of their 2018 tackles leader, Jamie Collins, the Browns drafted two linebackers in Sione Takitaki (BYU), and Mack Wilson (Alabama). While Takitaki was a bit of a reach, his tools fit perfectly for their defensive scheme. Wilson has some serious quality value in the fifth round, and with his pass coverage skills, it will be interesting to see how the Browns decide to use him. With the pick they got from New England in the Josh Gordon trade they selected kicker Austin Seibert (Oklahoma). Not the best pick in the fifth round, but considering the Browns took him so high they feel he has the ability to come in and knockdown and fix the kicking situation. The 2019 draft has shown that the Browns want to get some depth and athleticism on defense.
What the Browns did on offense this offseason has the potential to be monumental. First, they traded Jabrill Peppers, Kevin Zeitler, and multiple picks for superstar receiver Odell Beckham Jr. Then, they decided to take a chance on Kareem Hunt who won't see the field until week 10. These two moves have the potential to turn an already good offense into a truly elite offense. Mayfield now has two new weapons to go along with Jarvis Landry and David Njoku. With an already strong offense, the Browns are going to be very dangerous to deal with.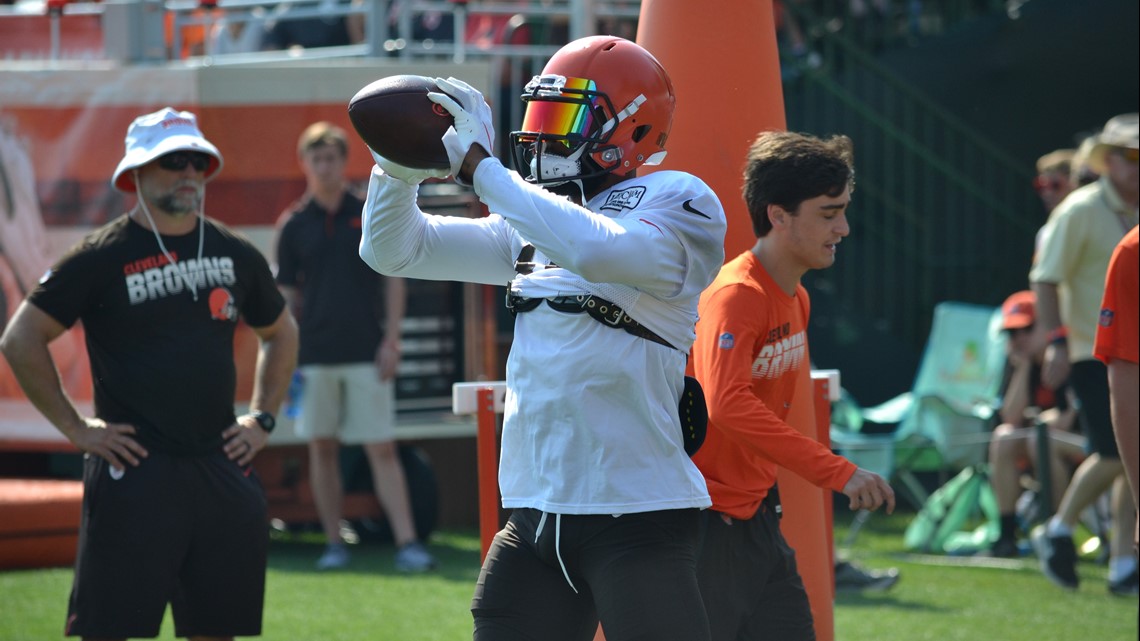 The Browns have one of the easiest schedules in the NFL this year. They really lucked out with Kareem Hunt's suspension since they only play one division game before he returns. Of their eight final games they go up against five teams that finished under .500 including five of their six division games. They also have games against the Bills, Jets, Cardinals, and Dolphins giving the Browns some opportunities to improve their record in what will be a tough AFC North.
2019 has the potential to be the most exciting season for the Browns since quite a long time. With a completely revamped defense, and multiple superstar additions on offense the Cleveland Browns are the team to watch going into 2019. This is not the same Cleveland Browns you've come to know these last two decades. This is a team that is looking to turn themselves into not just a playoff team, but Super Bowl contenders.