The 2019 draft class is one of the most talented draft classes we have seen in a while. We all know the first three picks are set in stone, but once we get to the fourth pick, that's where the fun begins.
1. New Orleans Pelicans: Zion Williamson, PF, Duke
Come on. What needs to be said about Zion? He's the most hyped prospect since LeBron James. The Pelicans are very fortunate they get to land a once in a generation type of talent.
2. Memphis Grizzlies: Ja Morant, PG, Murray State
The "point god" is also a rare talent, especially for the point guard position as Morant brings elite athleticism and elite basketball IQ. Everyone was sure the Grizzlies would get Morant once they got the pick, but yesterday when the Grizzlies traded Mike Conley, it made it 100% that the Grizzlies are selecting Morant unless somehow Zion isn't picked number one.
3. New York Knicks: RJ Barrett, SF, Duke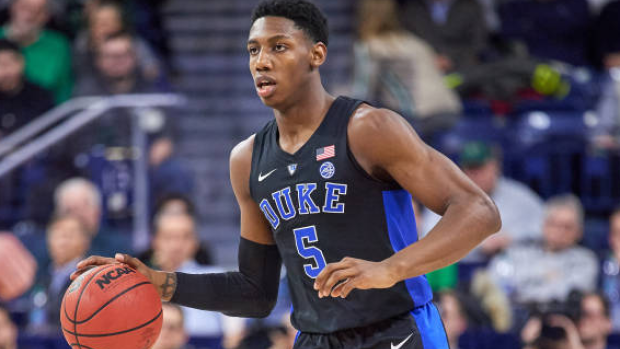 Feels weird that the Knicks aren't going after a guard for once. The Knicks did workout Darius Garland a couple of days ago, but the Knicks made it clear yesterday that RJ was their guy. There is some big expectation in New York, but I believe RJ can meet and surpass those.
4. Atlanta Hawks (from Lakers): DeAndre Hunter, SF, Virginia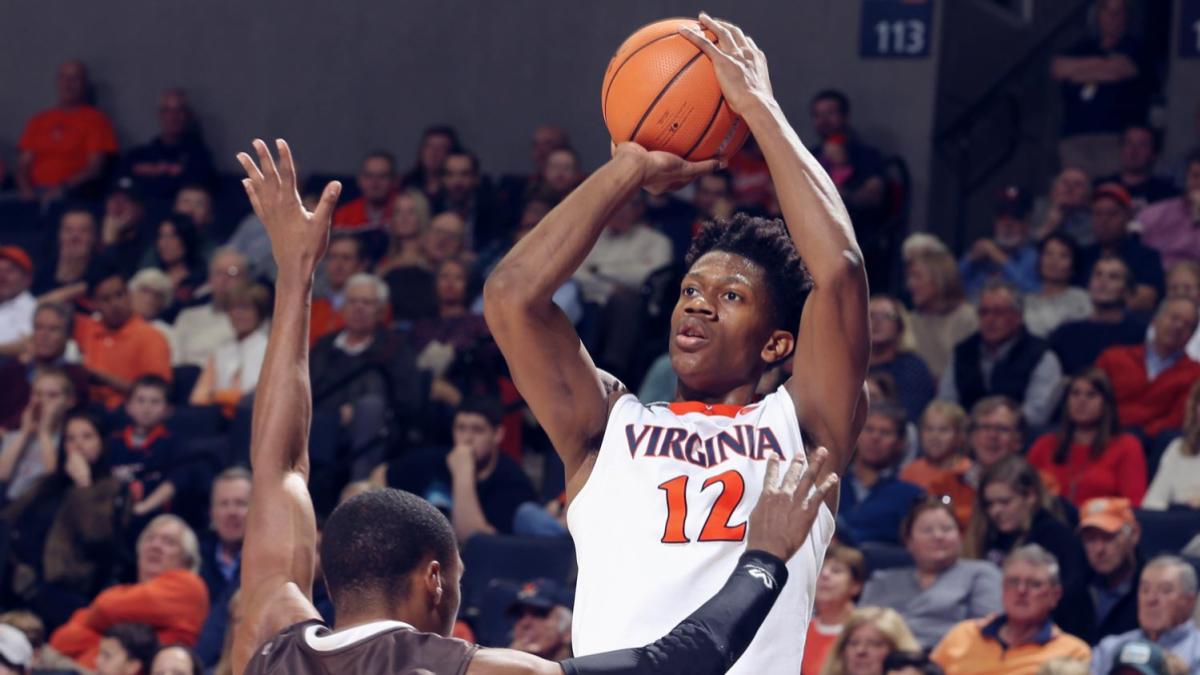 Yep. I have the Pelicans trading this pick to the Hawks. Why not? The Hawks have a ton of picks to trade and I think Hunter is their guy. Hunter provides great defense and his offense has improved. The Hawks are going to be a fun team to watch.
5. Cleveland Cavaliers: Jarrett Culver, SG, Texas Tech
The Cavs need defense and that's what Culver brings to the table. Culver is a two-way player but needs to improve on the three-point shooting.
6. Phoenix Suns: Darius Garland, PG, Vanderbilt
The Suns need a point guard really bad and Garland would be a perfect fit. He's a great shooter and was once the best point guard in this draft until Ja Morant burst into the scene. The Suns big three with Devin Booker, DeAndre Ayton and Garland is something to look forward to.
7. Chicago Bulls: Coby White, PG, North Carolina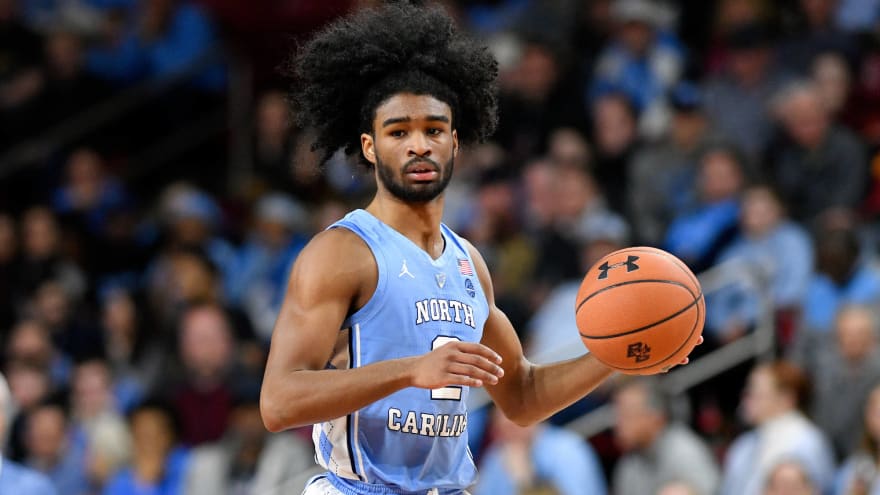 The Bulls are also in need of a point guard and they could be a team that does business with the Pelicans at the number four pick, but if they don't, Coby White is a great player to have. When watching him play for the Tar Heels he caught my eye and I thought to myself, "This kid is going to be special." He runs the pace of the game really fast, which makes sense for his elite speed, which I think will be perfect for Zach LaVine as well. There are really no negatives to White, but there's a lack of wingspan and a low release point, but I would love to see Coby White in Chicago.
8. New Orleans Pelicans (from Hawks): Cam Reddish, SF, Duke
There are many questions surrounding Reddish as his shooting was streaky at Duke and been some concerns regarding Reddish's desire to be great. The potential for Reddish is good though and could be a steal in the draft for the Pelicans.
9. Washington Wizards: Nassir Little, SF, North Carolina
There was a lot of hype for Little when he came to UNC, but inconsistent play took a hit on his draft stock. Little is another player that has great potential as he was considered to be a top-five pick earlier in the year. The Wizards traded away Otto Porter Jr. to the Bulls, so a replacement would be ideal, especially for an organization that doesn't know what to do.
10. Atlanta Hawks: Jaxson Hayes, C, Texas
There's not much talent regarding centers in this draft, so the Hawks could find a way to trade this pick. If the Hawks decide to keep this pick, I like the duo of John Collins and Hayes as the two big men. Really, I like the young lineup the Hawks can have with Trae Young, Reddish, Collins, and Hayes.
11. Minnesota Timberwolves: Sekou Doumbouya, PF, France
The Timberwolves are going to lose some veteran players in free agency and one of them is going to be Taj Gibson. Doumbouya is a well-built forward who has been tested by grown men in France. Doumbouya might take time to develop but would form a good frontcourt duo with Karl Anthony-Towns.
12. Charlotte Hornets: Rui Hachimura, PF, Gonzaga
Hachimura had an incredible season at Gonzaga and he showed off his great athleticism, high motor, and great size. He's also still learning the game of basketball as Hachimura will become the first Japanese-born player to be selected in the first round. For a small market team like the Hornets, this will be a bonus for incredible endorsement potentials.
13. Miami Heat: P.J. Washington, PF, Kentucky
The first Kentucky player is off the board! Washington has developed himself really well as his freshman year he shot 23.8% from the three-point arch to his sophomore year at 42.3%. Seeing that improvement is huge because Washington ceiling could be even higher. The Heat need a point guard, but Washington is just too good to pass up.
14. Boston Celtics (from Kings): Brandon Clarke, PF, Gonzaga
First off, four power forwards taken in a row. Jeez. Clarke is a defensive force that can work fine in Brad Stevens' system. His measurements weren't great and neither is his age (23), but the feeling is that he could make an impact right away, especially since the Celtics are falling apart.
15. Detroit Pistons: Romeo Langford, SG, Indiana
Langford struggled in his one-and-done campaign at Indiana, but he showed some flashes. Langford did suffer a torn ligament in his thumb, so perhaps we didn't see his best version, which can be a good sleeper pick for the Pistons.
16. Orlando Magic: Tyler Herro, SG, Kentucky
Another sleeper pick for a sleeper team. The Magic have a ton of potential on their roster and they add a tremendous shooter. Herro, to others, is the best shooter in this draft and his size can help him score in multiple ways. Herro would be a nice piece for the Magic, who are still trying to figure out there other key ingredients.
17. New Orleans Pelicans (from Brooklyn): Bol Bol, C, Oregon
The Pelicans really need a center since they traded Anthony Davis, and Bol could be a boom-bust player in this draft. At 7'2 with a 7'7 wingspan, the size is once in a generation. The biggest weakness with Bol is his strength and the ability to stay healthy, but at this point for the Pelicans, everything is working for them.
18. Indiana Pacers: Nickeil Alexander-Walker, SG, Virginia Tech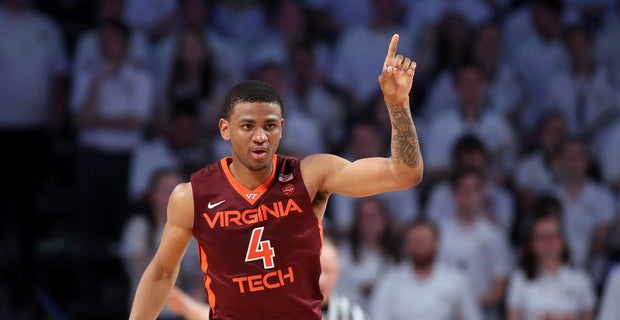 Alexander-Walker would be a nice addition to the Pacers, who are going to see their star shooting guard Victor Oladipo out for a while. Great shooter, versatile player and very good IQ. Alexander-Walker will fit very well with the Pacers style of play.
19. San Antonio Spurs: Goga Bitadze, C, Georgia
Bitadze is getting some good comparisons to Denver Nuggets center, Nikola Jokic. Bitadze is long, big and has the ability to do everything on the court. The only known issue is the three-point shooting at 31.3%.
20. Los Angeles Clippers (from Boston): Grant Williams, PF, Tennessee
Williams will be a great bench player for the Clippers. He's not the most gifted player in this draft, but his defense, toughness, and IQ will help. The Celtics originally had this pick, but I don't think they'll keep all three and LA has been great with finding hidden talent.
21. Oklahoma City Thunder: Kevin Porter Jr., SG, USC
Looking at the stats, this isn't a sexy pick for the Thunder, but they need some shooting badly. Andre Roberson is a solid player but is only good for defense. At least Porter Jr. will bring the offense and a chance to bring out his best in OKC.
22. Boston Celtics: Ty Jerome, SG, Virginia
The Celtics are going to lose Kyrie Irving and maybe Terry Rozier. If the Celtics bring back Rozier, perhaps he starts. If not, the Celtics are in need of a starting point guard, maybe they roll with Marcus Smart, but that wouldn't be ideal. Nonetheless, the Celtics are going to need guard depth, so Jerome comes into play here. Jerome is a solid shooter and comes with great defense.
23. Memphis Grizzlies (from Utah): Cameron Johnson, SF, North Carolina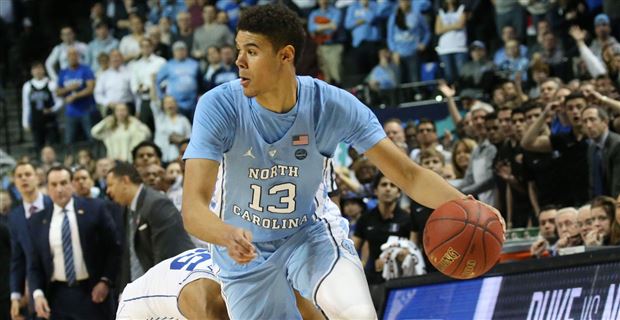 Another lights out three-point shooter. Johnson is going to be a nice player for the Grizzlies as he's going to a team that needs shooters. Johnson has great size, which can bring more versatility to the Grizzlies.
24. Philadelphia 76ers: Keldon Johnson, SG, Kentucky
The 76ers need some shooters and they are poised to lose JJ Redick in free agency. So, why not bring in some shooters for your bench like Johnson. Johnson also brings athleticism to the 76ers, so this might be a little late round magic by Philadelphia.
25. Portland Trail Blazers: Mfiondu Kabengele, PF, Florida State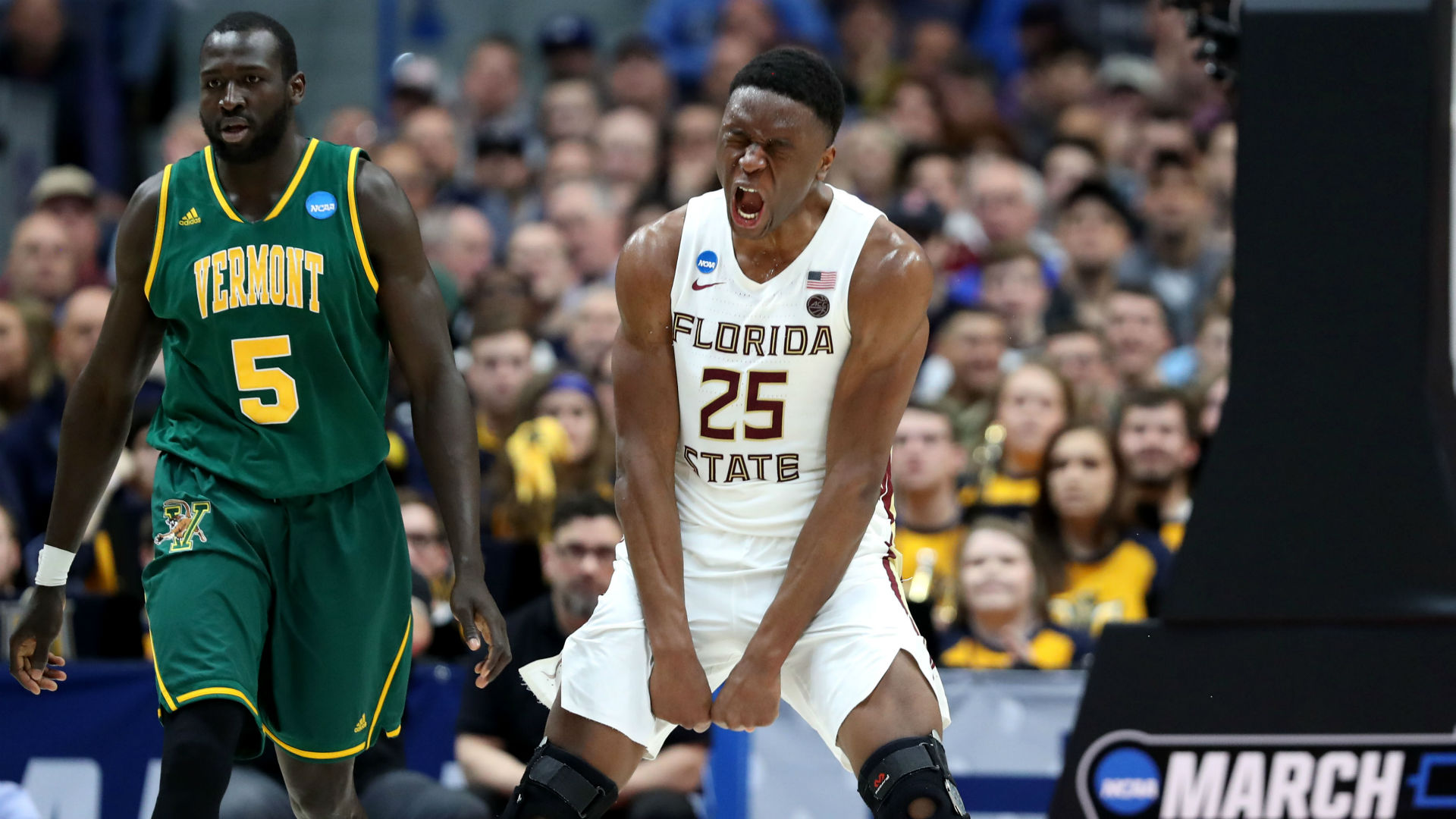 Kabengele looks to have that NBA-ready body. He's big, athletic and can stretch the floor. Portland needs more consistent play from the power forward position, so I like what Kabengele can bring to the table. This might be a pick we look back and wonder why he wasn't taken sooner.
26. Cleveland Cavaliers: Luka Samanic, PF, Croatia
Samanic has some comparisons to current European born NBA player, Nikola Mirotic. Samanic is a good shooter and saw his stock grow at the combine. Scouts believe Samanic could play small forward, power forward and even center. So, the versatility would be nice for the Cavaliers, especially if a Kevin Love trade is in place, or move on in free agency.
27. Brooklyn Nets (from Nuggets): Chuma Okeke, PF, Auburn
Okeke tore up the NCAA tournament but saw his season end due to a torn ACL in the Sweet Sixteen. Okeke is another great shooter with great athleticism. If it wasn't for the injury, Okeke would be a top 15 pick, but the Nets should take the risk as Okeke can contribute when healthy.
28. Golden State Warriors: Nicolas Claxton, Georgia
Claxton was the star at the NBA combine and the Warriors would love to take him as they got exposed by the Toronto Raptors in the finals. Claxton has raw talent, but since this is a redshirt year for the Warriors, they can develop his talent as an athletic big man can impress.
29. San Antonio Spurs (from Raptors): KZ Okpala, SF, Stanford
The Spurs develop talent better than anyone else in the NBA and with Okpala he can become something nice. Okpala is a good shooter but is very long and skinny. If Okpala can gain some weight and muscle, he could turn into a valuable player.
30. Milwaukee Bucks: Dylan Windler, SG, Belmont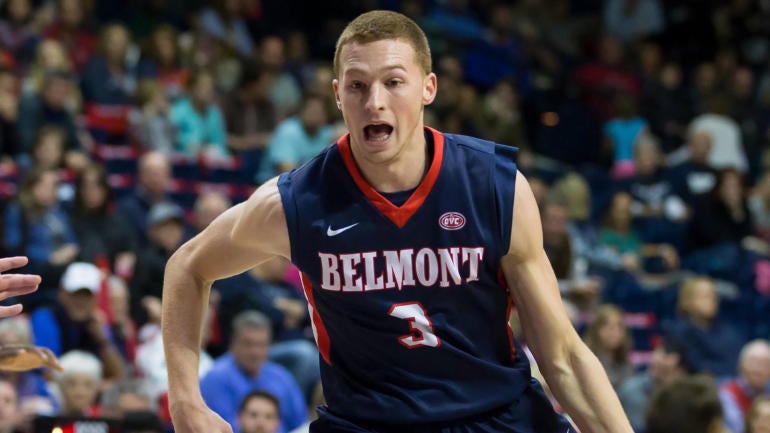 The Bucks shot the three-pointer really well last year, but against the Toronto Raptors in the Eastern Conference Finals, they looked like a deer in headlights (get it?). Windler shot over 39% in all his years at Belmont and it's what Milwaukee needs. Besides the shooting, Windler averaged a double-double his senior year with 21.3 points and 10.8 rebounds, perhaps a little bit of JJ Redick in Windler's game.