We are two days away from the NBA Draft and Boston has managed to keep their three first round draft picks. These can still be packaged together with a player or two to obtain an All-Star/Super-Star, but the picks could also be used to, well, make picks. NBA scouts see this draft as one that is top heavy, meaning that outside of the top 5 or 7 picks, there aren't many sure fire or wowing options, leaving teams to bank on grabbing sleepers or draftees with less upside but more ready now skills.
It has already been almost etched in stone that the Pelicans will be drafting Zion Williamson and it has been reported that they are looking to move up to the 2nd pick by using the trade assets they just stole…I mean acquired through a fair dealing from the Lakers. Once we drop down to picks 7 through 14 it becomes a lottery ball guess of who goes where and if the teams holding that pick even keep it. The Celtics are one of those teams that could move their picks for better future choices or a player, but if they don't what are some of the options at pick 14? We can go through the rabbit hole on this one but let's keep to the best 5 options available and why they make sense.
Now, we know that anything can happen on draft night and players we think would go later in the draft can go much earlier but with that said, let me put on my NBA 2k GM hat and tell you who my options are at lucky 14.
Key: Points/Rebounds/Assists/Field Goal Percentage
PICK 14
PJ Washington: 6'8" height, 7'2" wingspan, 8'10" standing reach, 230lbs, 15ppg/8rpg/2apg/52%
PJ Washington is a versatile power forward who can get his in the post and bring his man past the perimeter for some long-range scoring. He was linked to the Celtics when the draft machine first churned up because of his easy fit into what the Celtics already have on the roster. He shot over 45% from NBA range in the combine and backed up those numbers with stats from his sophomore year sitting at 42.3% from three-point land. PJ Washington, under the right mentorship and coaching, could be another Al Horford, and we know how that turned out.
He can guard just about any position, even some center, and is an above average passer at his position. I like him here at 14 and see him as a steal if he is still on the board.
Goga Bitdaze: 6'11" height, 7'2" wingspan, 250lbs, 20ppg/8rpg/3bpg
This is an international prospect who is ready to come to the NBA. After withdrawing from last year's draft he has improved his offense and polished his game, making him one of the more NBA ready prospects in the draft. He has a big body that pounds in the post and a smooth jumper for a player his height. He has been compared to a more offensively skilled Steven Adams which is not a bad comparison considering the basketball IQ Steven Adams has. If PJ Washington is not on the board, I'm selecting this international hulk.
Romeo Langford: 6'6" height, 6'11" wingspan, 215lbs, 17ppg/5rpg/2apg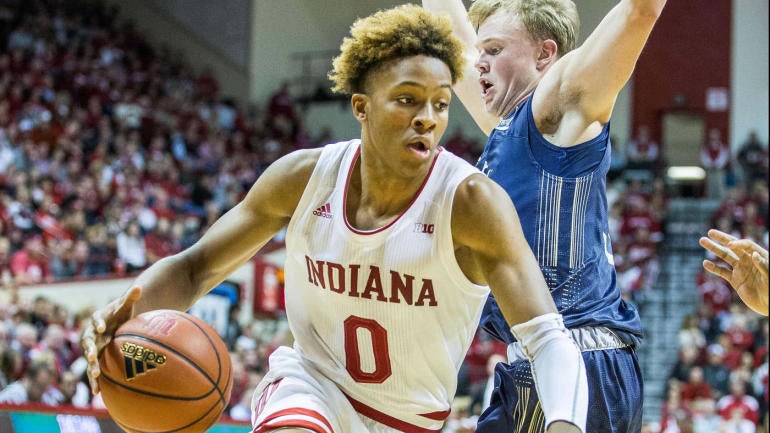 Romeo was a prospect placed higher on draft boards before he tore a ligament in his hand, but he remains an intriguing option at shooting guard. So why is he my third option at pick 14? Well, the Celtics already have two certified killer shooting guards in Jaylen Brown and Marcus Smart so Romeo Langford would possibly be just a bench warmer for much of the season at that position, something the Celtics don't need. We need players who can get in the game, especially if we strike out on big name free agents, but Langford has some point guard abilities that could play well as a secondary option ball handler/play maker at that position since Terry Rozier has often struggled to be more efficient on that end of the court.
He is also a capable rim finisher when attacking the basket and has high athleticism. He brings some offense, something that we saw go stagnant often during the Celtic's season.
Unlike the other two before him, Romeo is more of a best player on the board option if he is available and the other two are not. He isn't a gamble but also isn't the best fit. Still, he can be a useful piece in Brad Steven's rotation.
Bol Bol: 7'3" height, 7'7" wingspan, 9'7.5" standing reach, 208lbs, 21ppg/10rpg/1apg/56%
I don't think I need to cover how jaw dropping Bol Bol's physical gifts are. He has the record for widest wingspan already and possesses good basketball IQ thanks to his legendary father. With that said, he falls short of his defensive capabilities by miles but is an incredible offensive player where he shows off his athleticism and coordination, something not often seen for a player of his build. He has one the highest potential ceilings in this Draft, maybe even higher than Zion's, but he also has one of the lowest. His injury will be something teams look at as he comes into the draft because his frame has already been a concern when healthy. Yet, if he is available here and the others are not, what he can do on the court is too alluring to let him slip past.
Bol Bol, though with all his possible downside, doesn't project as a developmental project pick here but as a player who can contribute now and possibly grow into a level of talent that teams will regret passing on.
Tyler Herro: 6'6" height, 6'3" wingspan, 197lbs, 14ppg/5rpg/3apg/35.5 3PT%
This last option was a hard one to make. We are looking for someone ready to play and able to contribute, not projects. Tyler Herro, though a short wingspan, has a great shooting stroke, one not often seen from guys this young and can put the ball in the hole at a high rate. His shooting range has some depth and he looks like a more than capable sniper off picks, something in the image of JJ Reddick. I know we said the shooting guard position didn't need another positional player but with the way he can score and the playmaking ability he has, it was hard to overlook him if he is the only one available out of the 5 listed.
Of course, I am not the Celtics GM, that enviable job belongs to one of the best in Danny Ainge, who has been stellar in making the best moves for the team. I don't expect anything less come Thursday but I wouldn't be surprised to see some of the names I mentioned here called as the Celtics selection.