1. Arizona Cardinals: Kyler Murray, QB, Oklahoma
There's been plenty of talk going around about the Cardinals and that they aren't sure about taking Kyler Murray number one, but we are at the time where you can't believe everything you hear. I think the Cardinals draft Murray and trade Josh Rosen, even though I don't think that's what's best for the organization.
2. San Francisco 49ers: Quinnen Williams, DT, Alabama
A lot of mock drafts have Nick Bosa going to the 49ers, but I really don't see it happening. The 49ers just traded for a DE in Dee Ford and have their third overall pick in the 2017 draft, Soloman Thomas. I don't think an edge player is what the Niners need. I like Williams (not because of the last name) and I don't think you can go wrong with him as he can dominate the line of scrimmage.
3. TRADE! Washington Redskins (pick from the New York Jets): Dwayne Haskins, QB, Ohio State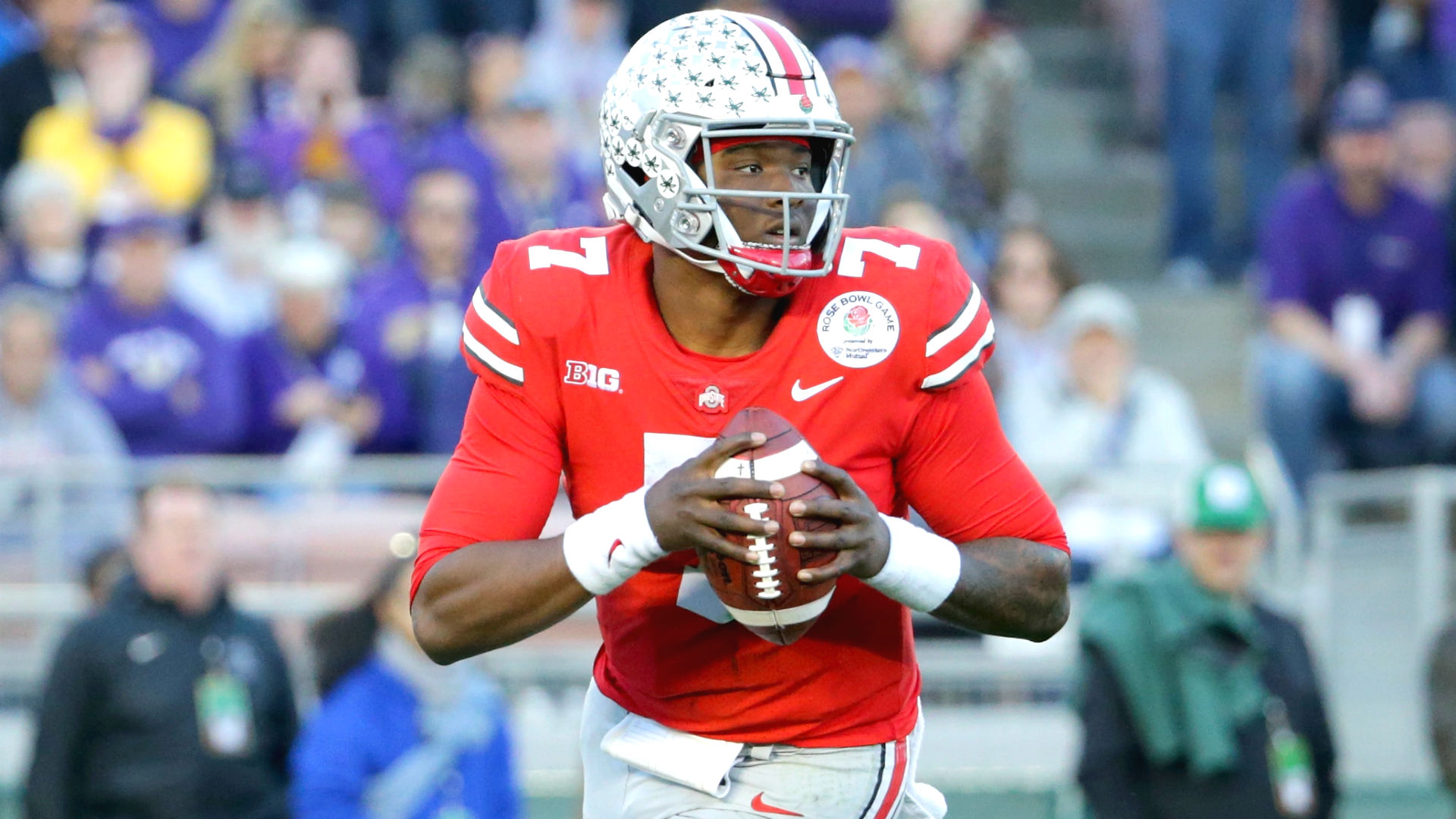 There has been talks of the Jets moving back and I can buy into this. All my pervious mock drafts I have had the Redskins trade up for Haskins and do you blame me? Would you be ok with Colt McCoy and Case Keenum as your potential starting quarterback? I hope not. We have also seen Dan Synder trade up for quarterbacks before (RG3), why not do it again?
4. Oakland Raiders: Nick Bosa, DE, Ohio State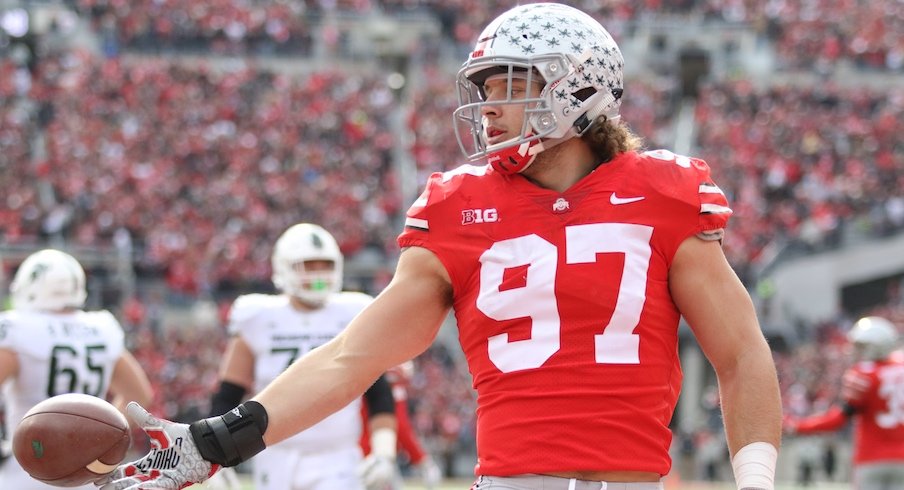 I still think the Raiders have the most attractive pick in this draft. If a player like Bosa or Williams fall they can take them, or they can still take a talented player like Josh Allen, Ed Oliver, etc. I do think it's going to be toss up between Bosa and Allen though. I give the edge to Bosa because he's a terror coming off the edge (kind of like his brother Joey), but the question surrounding Bosa is, will her have the durability.
5. Tampa Bay Buccaneers: Devin White, LB, LSU
After losing Kwon Alexander the Bucs need a new linebacker and White is a ridiculous athlete. It's hard for me to see the Bucs pass on Josh Allen though, but I think finding your next linebacker, the captain of your defense, is more important than an edge rusher at the moment.
6. New York Giants: Josh Allen, DE, Kentucky
I will admit, I would be shocked if Allen falls outside the top five, but the Giants wouldn't complain. They need some help everywhere, but defense is a stronger need than any of the offensive positions, even quarterback. I'm a big Allen fan, so I think the Giants will love this pick. Just got to hope that the Giants don't find a way to trade him in the next couple of years.
7. Jacksonville Jaguars: Jawaan Taylor, OT, Florida
The Jaguars have a strong need for a right tackle after losing Jeremy Parnell and since the Jags paid top dollar on Nick Foles, this would be a nice way to protect your big investment.
8. TRADE! Atlanta Falcons (pick from Detroit): Ed Oliver, DT, Houston
Last year the Falcons wanted to address the defensive line, but decided to pass on that. Oliver would force an amazing duo with Grady Jarrett. Oliver is a freak of an athlete and has unbelievable potential.
9. Buffalo Bills: Jonah Williams, OT, Alabama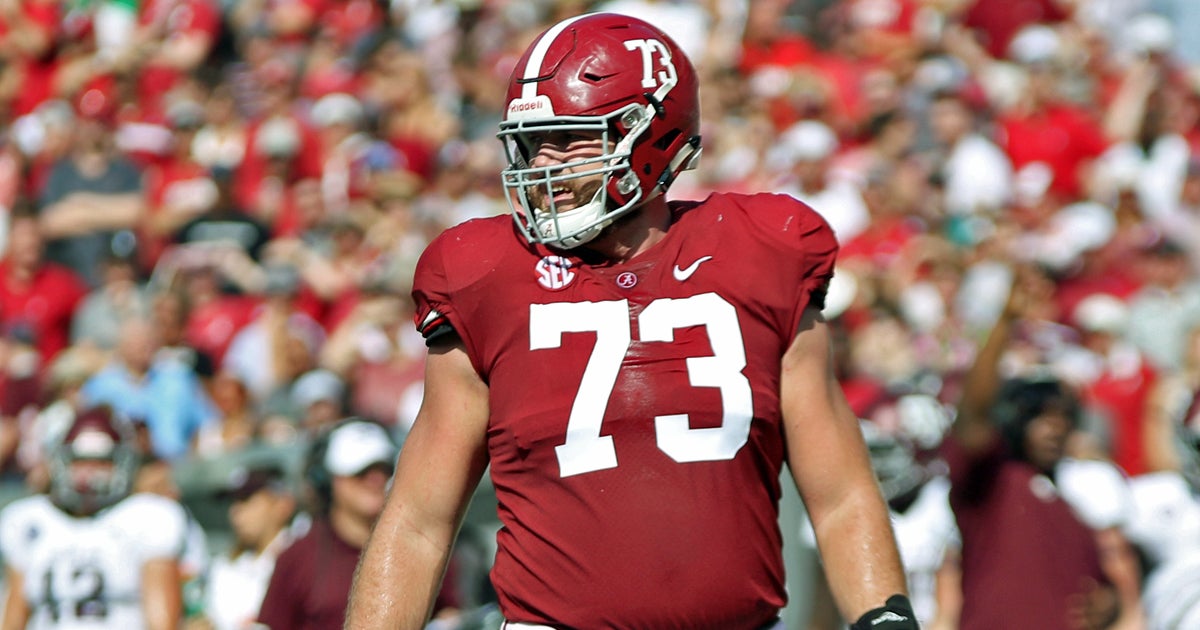 The Bills still have a lot of needs to address and most of them are on the offensive side of the ball. Some mock drafts are tempted to give quarterback Josh Allen a safety blanket in T.J. Hockenson, but I think it's more important to keep Allen's safety in check first and keep him upright.
10. Denver Broncos: Devin Bush, LB, Michigan
Drew Lock seems to be the obvious pick, but the Broncos parted ways with defensive players like Brandon Marshall, Josey Jewell and Todd Davis. Bush is another fantastic athlete and will serve wonders for Vic Fangio. I also think the Broncos pass on Lock due to the fact John Elway believes Joe Flacco is their guy.

11. Cincinnati Bengals: Drew Lock, QB , Missouri
Speaking of Drew Lock… The Bengals are poised to move on from Andy Dalton as he just couldn't get the Bengals over the hump. Also, many forget that the Bengals have a new head coach in Zac Taylor and he might want to invest in a young, talented, tough QB.

12. Green Bay Packers: T.J. Hockenson, TE, Iowa
The Packers are going to benefit in this draft class due to the amount of defensive players, quarterbacks and offensive lineman. Since the Packers covered their defensive issues in free agency, they are going to try something new and get offensive help for Aaron Rodgers. Packers fans should like the tight end duo of Hockenson and Jimmy Graham.
13. Miami Dolphins: Cody Ford, OG, Oklahoma
Cody Ford is a monster and the Dolphins need to bulk up their weak offensive line. Ford has great lower body athleticism and upper body strength. Another benefit for Ford is he can play tackle as well. This might be a lost year for the Dolphins, so why not build the offensive line for a potential first round quarterback next year. *cough cough Tua cough*
14. Detroit Lions (from Atlanta): Brian Burns, DE, Florida State
The Lions failed to re-sign Ziggy Ansah, so it would make logical sense to find a replacement. Burns is a great rusher and got a lot of attention with his numbers at the combine. Matt Patricia would love to land a guy like Burns to go along side Trey Flowers.
15. New York Jets (from Washington): Christian Wilkins, DT, Clemson
The Jets defense is starting to look pretty scary and seems like the team to run that division when and if Tom Brady retires. The Jets are still looking at defensive line help and since they were willing to trade back, it makes sense to get the next best thing in Wilkins. Wilkins isn't Quinnen Williams or Ed Oliver, but he's still very good.
16. Carolina Panthers: Montez Sweat, DE, Mississippi State
Yes their has been concerns about Sweat's heart condition as it was uncovered at the combine, but he is still one of the drafts premiere pass rushers. The Panthers were 27th in sacks last year and with Julius Peppers retiring, they need someone to fill the hole.
17. New York Giants (from Cleveland): Daniel Jones, QB, Duke
Now, the Giants said they weren't interested in a quarterback with their first pick, but I think it's different with their second pick. I think it's a bit soon, but with Murray, Lock and Haskins all gone, the Giants have to act. Jones plays with a Eli Manning type style, but just more athletic. The footwork is good but can sometimes hold the ball for too long.
18. Minnesota Vikings: Andre Dillard, OT, Washington State
The Vikings offensive line is going to take a beating as the must face the Bears and newly improved Packers and Lions defense. For the sake of Kirk Cousins, the Vikings need to address the offensive line and get some protection or it's going to be another rough season.
19. Tennessee Titans: Chris Lindstrom, OG, Boston College

Marcus Mariota also needs some help up front and preferably at the guard position. Lindstrom should be an instant upgrade as the Titans need to keep Mariota healthy and get Derrick Henry and Dion Lewis going.
20. TRADE! Green Bay Packers (from Pittsburgh): Marquise Brown, WR, Oklahoma
Last year we saw Packers GM, Brian Gutekunst, very active during the draft and I see it happening again. This would be gold if the Packers can trade in front of the Seahawks and Ravens – two teams who need receivers. Rumor is that Brown is a for sure first round pick and let's be honest here, the Packers offense thrives when they have a speedster. Randall Cobb was that for a long time in Green Bay. The Packers get two highly talented targets in the first round to revamp that offense.
21. Seattle Seahawks: Clelin Ferrell, DE, Clemson
Well, the Seahawks traded Frank Clark to the Kansas City Chiefs yesterday, so they have a hole on the defensive line. Ferrell comes in after a great season at Clemson and looks to reload that pass rushing attack.
22. Baltimore Ravens: D.K. Metcalf, WR, Ole Miss

Ok, Lamar Jackson really needs some weapons. The wide receiver group is Willie Snead, Seth Roberts, Chris Moore and Jordan Lasley. Jackson needs some help and why not the athletic freak in Metcalf.
23. Houston Texans: Dalton Risner, OT, Kansas State
For the love of God, please get DeShaun Watson protection. There should be no reason why the Texans should go after another position. There's a possibility that even the Texans could trade way up to make sure they secure a top protector, but for Watson's sake, protect him!
24. Oakland Raiders (from Chicago): Greedy Williams, CB, LSU
The Raiders still need help defensively and a player like Williams, who has the best coverage in the draft, makes sense for a division that has Keenan Allen, Mike Williams, Tyreek Hill and Emmanuel Sanders. The only downfall to Williams' game is he's afraid to come up and make the tackle.
25. Philadelphia Eagles: Garrett Bradbury, C/G, North Carolina State
The Eagles got their running back by pulling off a robbery for Jordan Howard, so now they need to get someone for Howard to run behind and help Carson Wentz. Bradbury is solid in all aspects of the game and showed good athleticism by playing center and guard. Indianapolis
26. Indianapolis Colts: Dexter Lawrence, DT, Clemson
The Colts want to upgrade the team's defensive line and Lawrence can help do that as he was a dominant force at Clemson. Lawrence has plenty of value and could be a late first round steal to whoever he goes to and it seems like the Colts are going to pull it off.
27. Oakland Raiders (from Dallas): Noah Fant, TE, Iowa
The Raiders passing game is looking good with Antonio Brown and Tyrell Williams. The Raiders did lose Jared Cook to the New Orleans Saints, so getting Fant is a pretty big need, unless the Raiders want to roll with Lee Smith, who has never made 12 catches in a season.
28. Los Angeles Chargers: Jeffery Simmons, DT, Mississippi State
The Chargers have a talented roster from top to bottom and it's hard to find holes, but it showed in the divisional round against the Patriots where New England had a field day running the ball. Simmons can help limit the run game as a strong interior lineman, but must be careful with a checkered past. Another red flag for Simmons is that he tore his ACL and won't be back midway through the season, but with how deep the Chargers are, they can wait for a player that was once a top-five talent.
29. Seattle Seahawks: Jonathan Abram, S, Mississippi State
The Legion of Boom is over as Earl Thomas was the last member to leave as he took off for Baltimore. The Seahawks need to get something going again with their secondary and Abram is a nice start.
30. Pittsburgh Steelers (from Green Bay): Byron Murphy, CB, Washington
There's not many teams in need of a cornerback, so trading down for the Steelers to acquire more picks makes sense. Murphy isn't as athletic as Greedy Williams is, but his combine and coverage is still really good, especially for a team that needs to find a replacement for 2016 first round pick, Artie Burns.
31. Los Angeles Rams: Jerry Tillery, DT, Notre Dame
The Rams have a few holes on defense but after losing Ndamukong Suh, they have to get Aaron Donald some help. As in help, I mean making sure he isn't the one getting doubled or tripled teamed every play. Tillery is very consistent with his play and is hard to move, he could be one of the biggest surprises in the draft.
32. New England Patriots: Hakeem Butler, WR, Iowa State
With Gronk retiring the Patriots need a big downfield target and that's what Butler is. A speedster with a 6'5 frame with great jump-ball ability, Brady will have a new downfield target. Yes, the Patriots could go Irv Smith Jr., but I think a receiving core with Julian Edelman, Bruce Ellington, Maurice Harris and Damoun Patterson needs a look at first.