Welcome to the second round of my mock draft! Just click on the link if you need a refresher on what happened in the first round of my mock – NFL Mock Draft 2.0 Enjoy! Make sure to share and leave some feedback.
33. Arizona Cardinals: Erik McCoy, C, Texas A&M
The Cardinals were really bad at protecting Josh Rosen, so they really need some protection for Kyler Murray. McCoy had a good year and showed great athleticism in the combine. The Cardinals must protect their young QB, so McCoy seems like a great fit.
34. Indianapolis Colts (originally from the Jets): Chauncey Gardner-Johnson, CB, Florida
Johnson is a versatile DB that can fill either slot corner or a safety role. Johnson is great at making plays and is very physical. The only downside to Johnson is that he is caught looking into the backfield for too long which can cause him to be out of position.
35. Oakland Raiders: Mack Wilson, LB, Alabama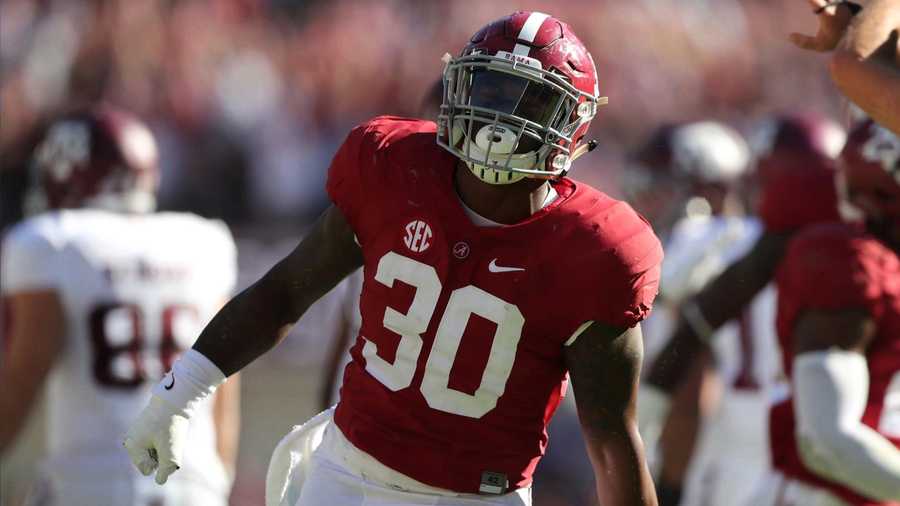 Any team that can land Wilson on the second day would be a steal. I like the Raiders in this year's draft, and I like what they can do with Wilson. Wilson is an every down player who's a great run stopper. He also can be a factor in the passing game as he can cover backs and tight ends or has great timing ability to get off the line and get to the QB.
36. San Francisco 49ers: Taylor Rapp, S, Washington
Last year for the 49ers, their secondary really struggled and they need to address the issue. There's not much safety talent in this year's draft, but the 49ers have to jump on board to get someone that can help a team that faces Russell Wilson and Jared Goff twice per year.
37. New York Giants: Will Grier, QB, West Virginia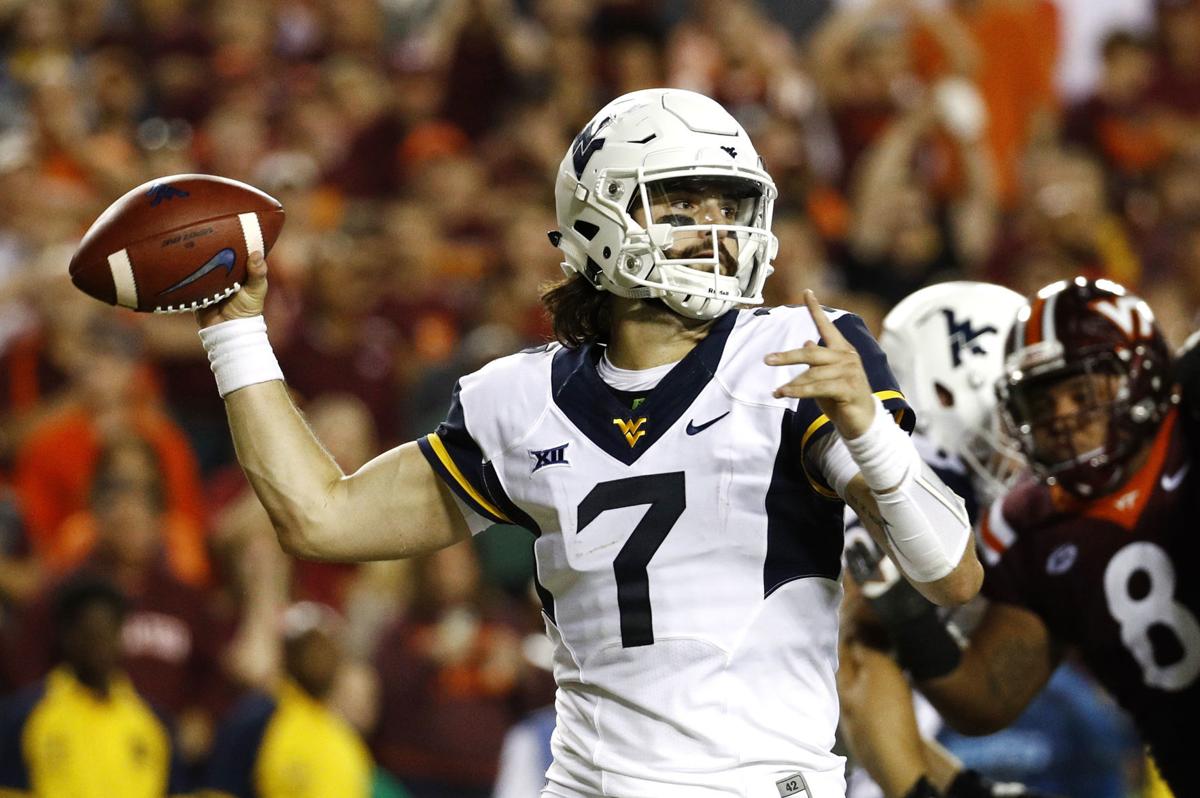 Heyoooooo! The Giants finally get their QB. Grier really impressed some scouts at his workout. I like Grier and it might be early to pick Grier in the early second, but the Giants need a successor to Eli. Grier has great accuracy and can work in Pat Shurmur's offense.
38. Jacksonville Jaguars: Deebo Samuel, WR, South Carolina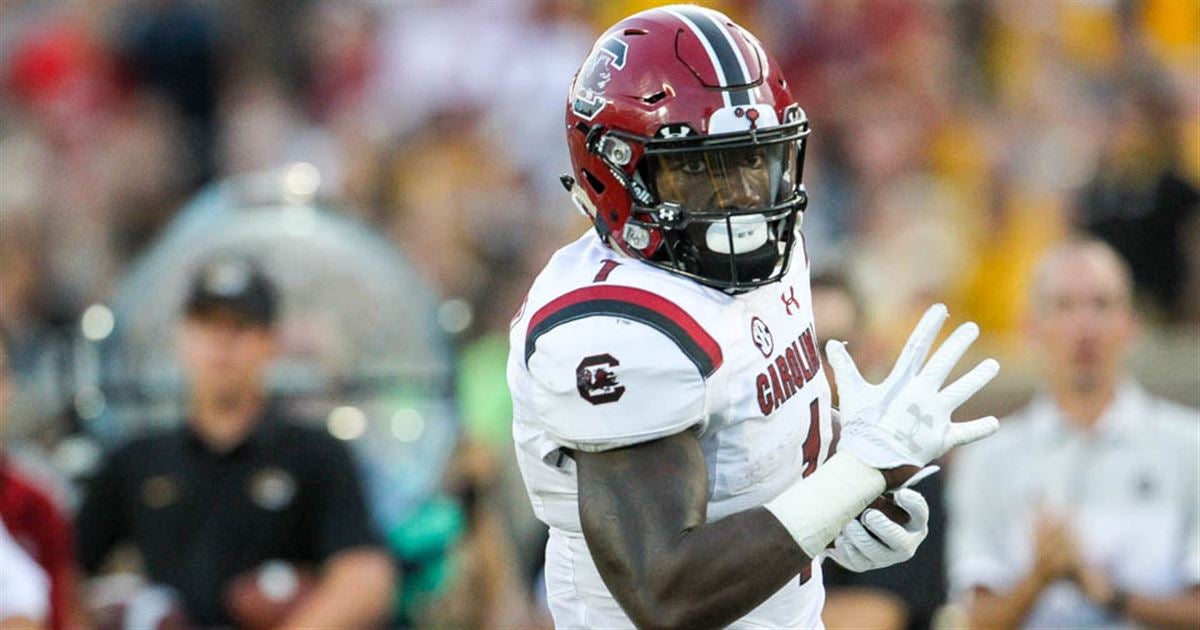 The Jaguars need wide receiver help, still, and Samuel had a very strong senior year as he torched the Clemson Tigers, thrived in the Senior Bowl and impressed at the combine. Foles is going to love his new number one receiver.
39. Tampa Bay Buccaneers: Trayvon Mullen, CB, Clemson
Mullen is an under the radar type of player and makes sense since Clemson's defense was engineered by their defensive line. Mullen still has a great talent out wide and the Buccaneers passing defense was one of the worst. Mullen will serve as a big upgrade.
40. Buffalo Bills: Zach Allen, DE, Boston College
The Bills stay defense here as in free agency they tried to bulk their offense just a bit. Allen was great in college and I loved watching him at Boston College. He's big, strong and a great rusher with a variety of moves. Allen and Ed Oliver will form a great duo on the defensive line, which could be a problem for the AFC East.
41. Denver Broncos: Josh Oliver, TE, San Jose State
In the first round, I have the Broncos going with a LB to replace Brandon Marshall, which means they'll be passing up on T.J. Hockenson and Noah Fant. They will still get a large TE with a huge catch radius in Oliver, who is a solid blocker and could be a sleeper in this nice TE class.
42. Cincinnati Bengals: Jachai Polite, DE, Florida
Polite had a very rough combine as he looked out of shape and had a hard time with the media. Besides that, the Bengals will gladly take a speedy edge rusher who shows great burst off the line. Polite is a bit small, but his athleticism makes up for that. The Bengals will love to get the former projected first rounder.
43. Detroit Lions: Nasir Adderley, S, Delaware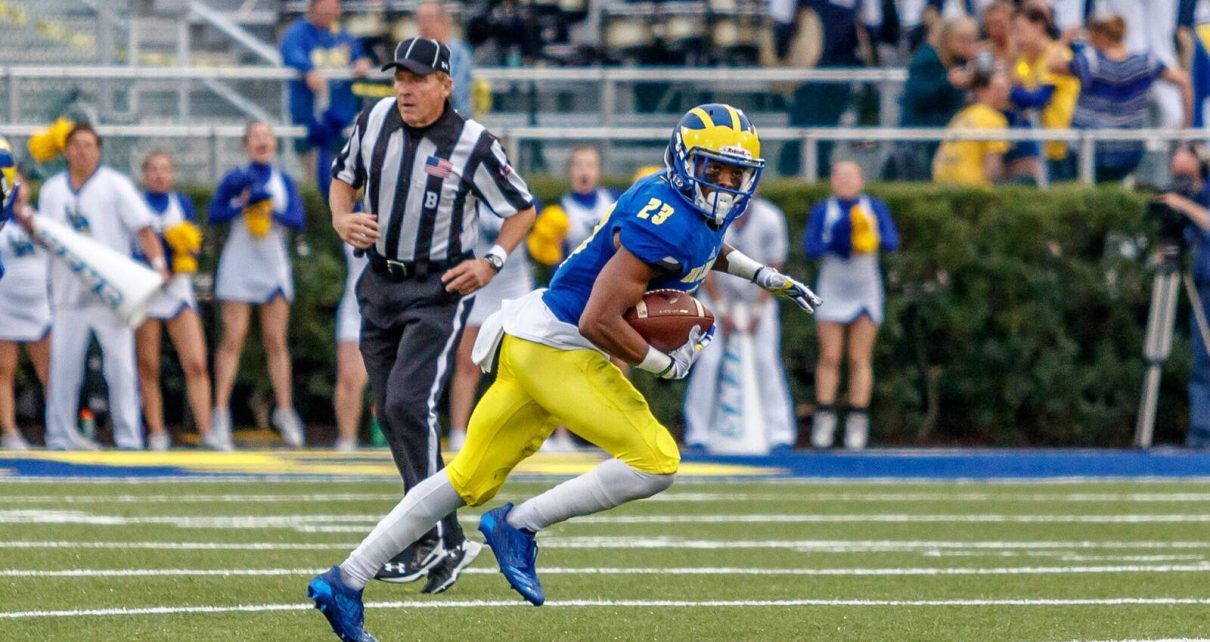 Releasing Glover Quin is a big deal for the Lions and they got to get that position filled. Last year, Tracy Walker had a surprising good rookie year, so his presence shouldn't preclude the Lions from getting another playmaker with nice range in their secondary.
44. Green Bay Packers: A.J. Brown, WR, Ole Miss
This year's draft could be Aaron Rodgers' fantasy. Getting an all-around player like Hockenson, protector in Greg Little and a physical, yards-after-the-catch specialist in A.J. Brown, oh my! The Packers don't have a true number two wide receiver as Geronimo Allison had a promising last year, but got hurt. An offense with Rodgers, Brown, Hockenson, Adams, Allison, Jimmy Graham and Aaron Jones could form another perfect pack. I wouldn't be surprised if Green Bay traded up for Brown.
45. Atlanta Falcons: Dalton Risner, OT, Kansas State

The Falcons need to give Matt Ryan some help up front. They are hurting the most at the guard position, but the best available offensive lineman is Risner. Risner can play in a variety of places, so he could possibly be moved. He shows great hand techniques and strength, which makes up for his athleticism.
46. Washington Redskins: Marquise Brown, WR, Oklahoma
If the Redskins can trade up for Haskins and then select Brown with this pick, this connection could be fun to watch. The Redskins need a downfield threat after they lost Jamison Crowder, but Brown is very undersized as he's 165lbs. Brown is very fast and quick and has that big play ability every time he touches the ball. He might struggle if Keenum wins the starting job, but if Haskins wins it, I'd watch out.
47. Carolina Panthers: Kelvin Harmon, WR, North Carolina State
The Panthers really need a WR after they traded Kelvin Benjamin a few years ago and then Devin Funchess leaving for the Colts. Greg Olsen is the only reliable target left, if he can ever stay on the field. Harmon is very physical, athletic and shows great yards-after-the-catch.
48. Miami Dolphins: D'Andre Walker, LB, Georgia
After letting Cameron Wake go to the Titans and trading Robert Quinn to the Cowboys, the Dolphins need an edge rusher. Walker is too good to pass up and he showed that in the SEC Championship, where he was a good run stopper and decent in coverage.
49. Cleveland Browns: Amani Oruwariye, CB, Penn State
The Browns need to find a solid starter across of Denzel Ward. Oruwariye has great length and can make big plays. The only negative in Oruwariye is that he needs to work on tackling as he has trouble wrapping up the ball carrier and getting low.
50. Minnesota Vikings: Elgton Jenkins, C, Mississippi State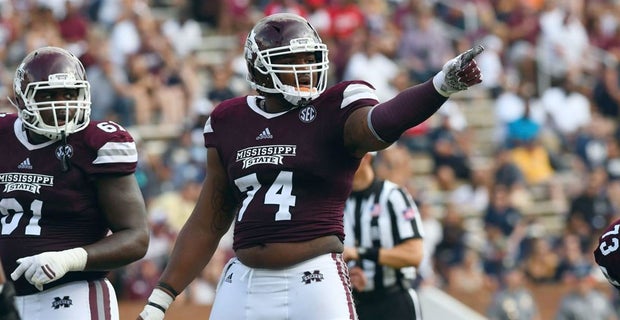 Even though I have the Vikings going after protection in the first round, they still need to stay on that for the second round, or again, could be a long season. Jenkins is a great center that opens lanes and could be an anchor of a possible good rushing attack.
51. Tennessee Titans: Kaleb McGary, OT, Washington
Last year, Marcus Mariota was sacked 11 times in a game… 11 times! Tennessee needs some offensive line work and McGary can help. The Titans love to run and McGary can control the running lanes for Derrick Henry and Dion Lewis. He was a tackle in college, but he might be moved to the guard position and that's where the Titans need the work and makes sense since McGary struggles with fast edge rushers.
52. Pittsburgh Steelers: Germaine Pratt, LB, North Carolina State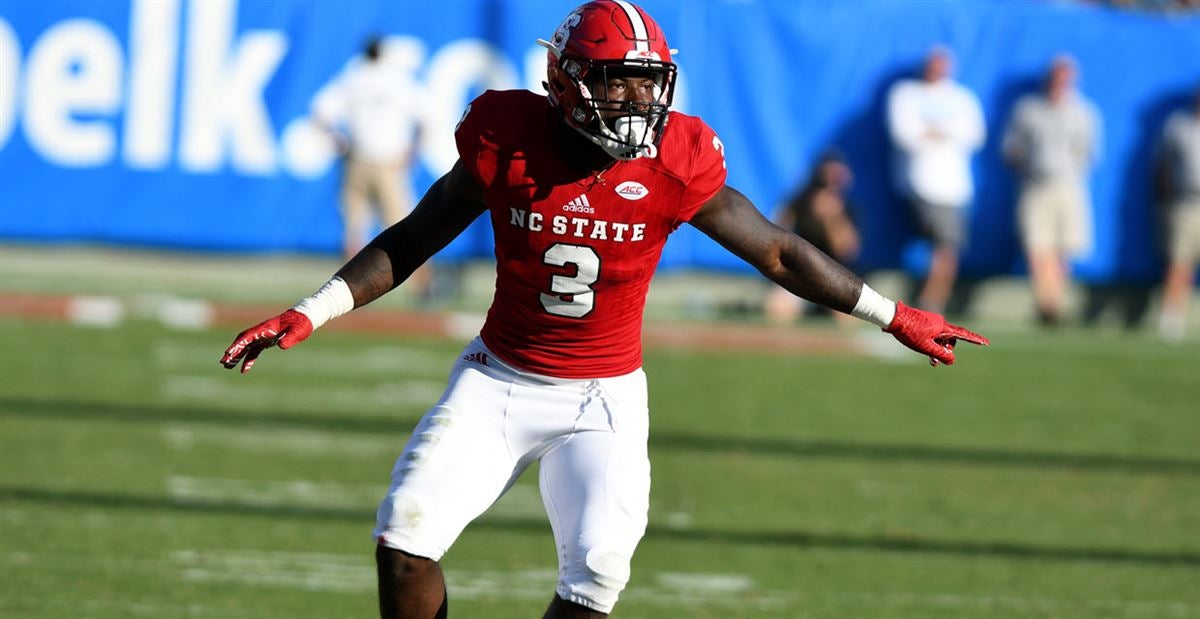 Pratt has the talent to be a great player in the league as he plays with great athleticism as he can cover sideline to sideline. The converted safety is a sure tackler and a smart player. The Steelers need to get better rushers and could get a sleeper.
53. Phildelphia Eagles: Jaylon Ferguson, DE, Louisiana Tech
The Eagles have an already solid front four, but Ferguson would be too good to let up. He has the ideal size and length in the Eagles 4-3 system. He isn't known for his speed, but he makes up for it with his good first step. Ferguson is a player that is going to thrive on technique.
54. Houston Texans: Rock Ya-Sin, CB, Temple
The secondary could use some work, especially with Jonathan Joseph as their best corner. It would be smart for Houston to plan ahead with a true in your face, physical corner. Ya-Sin has good ability and is willing to come up and make the tackle, but the only negative is allowing the big play.
55. Houston Texans: Michael Deiter, G/C, Wisconsin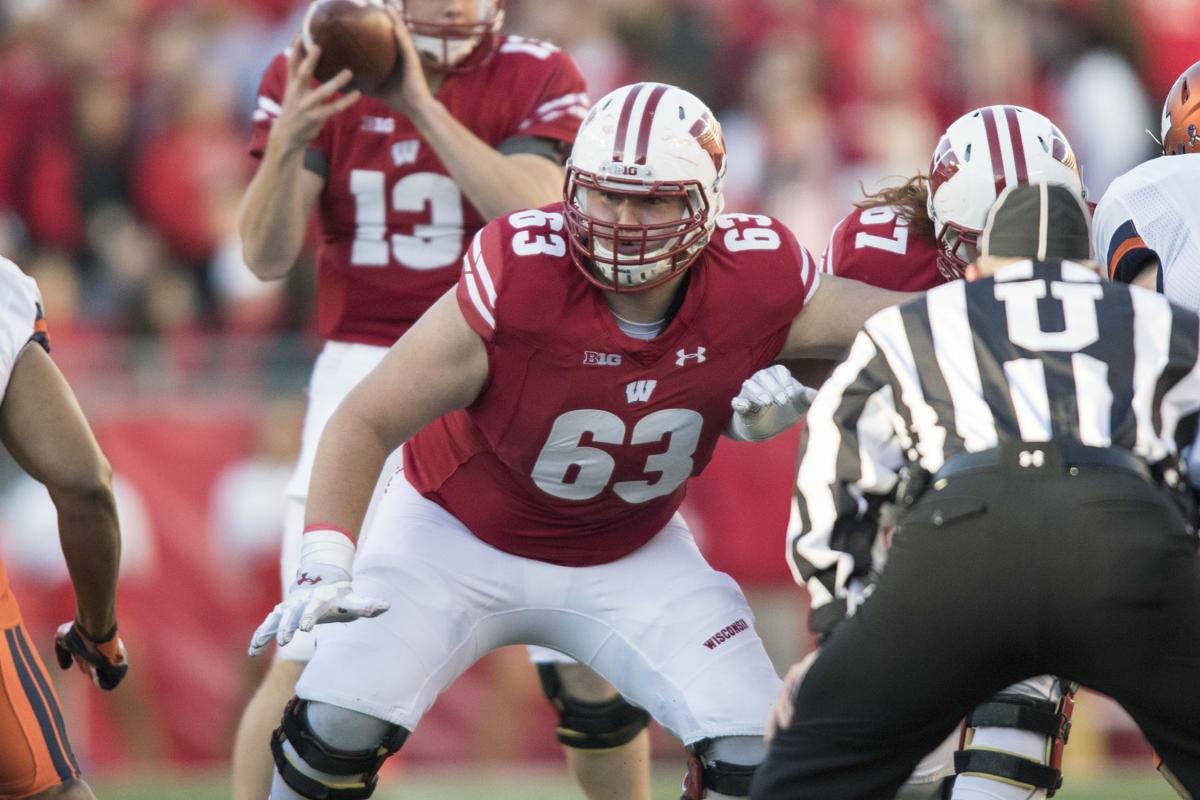 I had the Texans going with offensive line help in the first round, but they shouldn't be done upgrading. Deiter has started at center and guard throughout his career with the Badgers and that can bring a lot of versatility to that line.
56. New England Patriots: Irv Smith Jr., TE, Alabama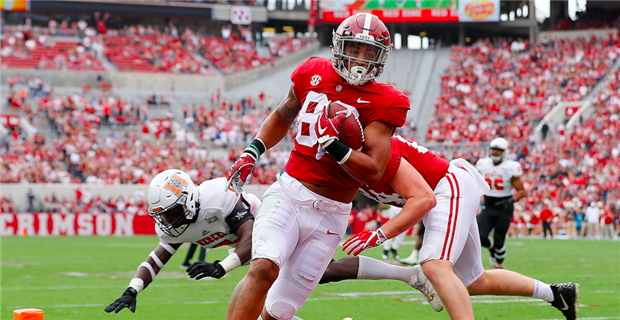 This seems like a no brainer as the Patriots need to get a tight end after the announcement of retiring from Gronk. Smith Jr. is a big and is a big threat after the catch. He will need to work on blocking, but will be a nice replacement.
57. Philadelphia Eagles: Justice Hill, RB, Oklahoma State
Yes, I know the Eagles just stole Jordan Howard from the Bears, but they need someone to handle the receiving work. Hill does have good speed and acceleration and the duo could make a great one in Philly.
58. Dallas Cowboys: Juan Thornhill, S, Virginia
The defense in Dallas is great and the only weakness is that secondary outside of Bryon Jones. The Cowboys tried to get a stud safety in free agency but just couldn't do it. Thornhill will still be a huge upgrade over what they have. Thornhill is very physical and athletic to come up and make plays.
59. Indianapolis Colts: N'Keal Harry, WR, Arizona State
Andrew Luck needs weapons still. Yes, Eric Ebron was very good and they just signed Devin Funchess, who I'm not sure about, especially on a one-year deal. Harry had raw talent and become an X-factor in the league. If Funchess walks next year, Harry will be a great number two next to T.Y. Hilton.
60. Los Angeles Chargers: Daniel Jones, QB, Duke
Not many people have Jones going after the first round, but this is the guy I feel that's going to drop a lot, simply because Jones is going to need some time to develop. He's not a guy you want running your team just yet, which is perfect for the Chargers. This is the year the Chargers finally get ready to find Philip Rivers successor as Jones gets to sit back and learn.
61. Kansas City Chiefs: Austin Bryant, DE, Clemson
Trading Dee Ford away means they must find someone to fill that void. Bryant has the ideal size and length as he sets up great on the edge, just like Ford did. The only issue on Bryant is that he's not overly athletic, but I would label him as a sleeper.
62. New Orleans Saints: Andy Isabella, WR, Massachusetts
Isabella is a quick and fast slot receiver who can take any play to the house. I feel like Sean Payton is going to have a lot of fun as he can use Isabella for screens, sweeps and so much more. He has many moves in his bag of tricks, has great cutting ability and his first step can make him dangerous.
63. Kansas City Chiefs: Tre Lamar, LB, Clemson
Yep. The Chiefs need to focus on defense and if they go this way, they could be in good shape. Lamar has amazing size and has played big at Clemson. He plays zone coverage well and he's physical enough to take on offensive lineman and make the stop.
64. New England Patriots: Jarrett Stidham, Auburn
The Patriots have got the weapons for Tom Brady, but here's the thing… Tom Brady can't play forgive, right? Well, let's say he can't, they have to look for a successor… again. This time they have to keep him. Stidham has the tools to be a good QB, but just needs to be consistent and take a seat and learn from Brady.