1. Arizona Cardinals: Kyler Murray, QB, Oklahoma
I'm not a big fan of the idea of jumping ship on Josh Rosen, but this seems like the popular pick for the Cardinals as their head coach, Kliff Kingsbury, has high praise for Murray. The smart pick for the Cardinals would to take a player like Nick Bosa, Josh Allen, Quinnen Williams, etc. Let's say Rosen doesn't pan out the way the Cardinals would like; you have Tua Tagovailoa in next year's draft and then Trevor Lawrence in two years, who are probably going to be better than Murray!
2. San Francisco 49ers: Quinnen Williams, DL, Alabama
The 49ers still need rushers. They did trade for Dee Ford which I like but getting Williams would be a nightmare for other teams to deal with. Williams is a top-five pick on every mock draft, but there's no reason why Williams should be outside the top-three. According to Charlie Campbell of Walter Football's, the 49ers want Nick Bosa or Williams, but Williams is going to get the edge.
3. New York Jets: Nick Bosa, EDGE, Ohio State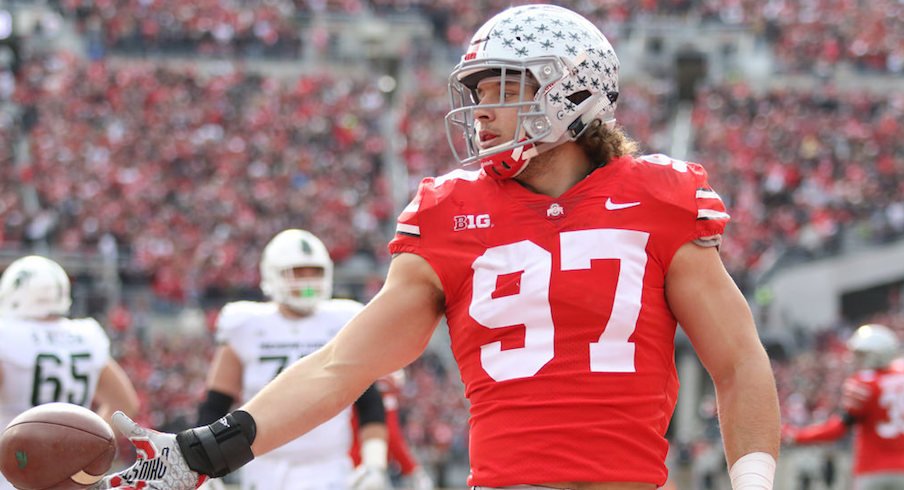 The Jets could be a team that could trade down, but if Bosa falls to them, there's no reason why they should. The Jets missed out on Anthony Barr as he resigned with the Minnesota Vikings, so there's still a huge void in that position. Bosa has tremendous skill set and should be another guarantee top-three pick.
4. Oakland Raiders: Josh Allen, EDGE, Kentucky
This is the best pick in the draft. The Raiders have an opportunity to select Williams or Bosa, if they fall outside the top-three, or they can settle for another great rusher in Josh Allen. Allen makes the most sense as they clearly need a rusher since… well, you know… they traded Khalil Mack. Not saying Allen is going to be put up the same production or better, but Allen is a good replacement to start off with.
5. Tampa Bay Buccaneers: Montez Sweat, EDGE, Mississippi State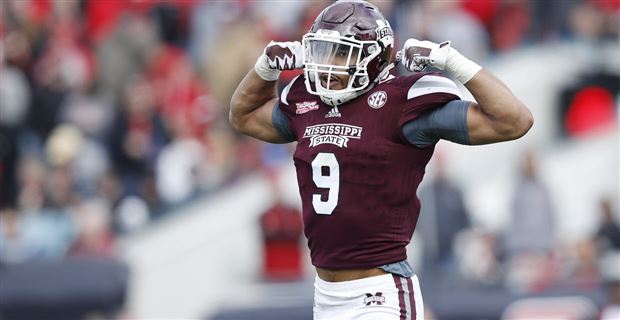 A linebacker would be nice for the Bucs as they lost Kwon Alexander, but an athletic edge rusher is too good to pass up. The Bucs are going to be switching to a 3-4 scheme under Todd Bowles and Sweat would fit well.
6. New York Giants: Rashan Gary, EDGE, Michigan
Hey Giants fans it's okay not to pick or trade for a QB this early (spoiler alert) and reports are coming out saying they want defense with this pick. Gary is a freak athletic and could play anywhere from the three-technique to the outside. The Giants also need to find Olivier Vernon's replacement and Gary is a perfect player to do that. You can get a QB later in the draft and IF the Giants don't select one, let Eli Manning play it out and select Tua or Justin Herbert in next years draft.
7. Jacksonville Jaguars: Jawaan Taylor, OT, Florida
I'm 99.9% sure this pick will happen and if it doesn't, I'll be shocked. The Jaguars have a strong need for a right tackle and since the Jags paid top dollar on Nick Foles, this would be a nice way to protect your big investment.
8. Washington Redskins (proj. trade with Lions): Dwayne Haskins, QB, Ohio State
Finally, a trade! Last mock draft I had the Redskins trading up for Haskins, but sooner. Since the Broncos and Dolphins are coming up, it makes sense for the Redskins to act now. Yes, the Redskins did trade for Case Keenum, but he isn't their long-term solution. The Redskins have expressed that they want competition for the starting gig and Haskins can instantly bring that with a good chance to win it.
9. Buffalo Bills: Ed Oliver, DT, Houston
Oliver is another freak athlete and has serious potential. It would be a crime for teams to pass on him, but I think it can happen as there's very few players better than him and some teams going after needs. The Bills need interior help ever since Kyle Williams retired and Oliver can make an impact right away.
10. Denver Broncos: Devin White, LB, LSU
Former Broncos linebacker, Brandon Marshall, was allowed to move on from the Broncos, so a good replacement would be White. White could be the next star linebacker as he has shown great leadership at LSU and has shown he can fly to the ball either on the ground or through the passing game.
11. Cincinnati Bengals: Andre Dillard, OT, Washington State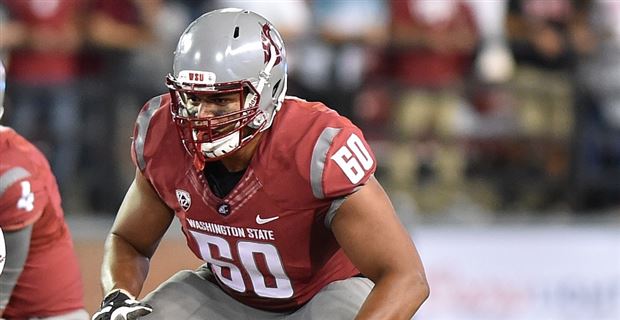 Last year the Bengals really struggled with their right tackle play, but everywhere else on the line is improving. Dillard could come in right away and provide some much-needed help as his pass protection skills is perhaps the best in this draft.
12. Green Bay Packers: T.J. Hockenson, TE, Iowa
A few weeks ago, everyone was talking about the Packers needing rushers and safeties. Well a new era has arrived. The Packers have found out how to spend money! They addressed those needs by getting Za'Darius Smith, Preston Smith and Adrian Amos, so it feels weird for the Packers to go offense with their first pick, but it's the right choice. Hockenson is the best tight end in the draft class as he's a great blocker and pass catcher. Him and Jimmy Graham will make a great duo and Aaron Rodgers will love his new target.
13. Miami Dolphins: Drew Lock, QB, Missouri
Don't sleep on Lock as he has a great arm and makes incredible throws. The Dolphins really need a QB and right now they have Ryan Fitzpatrick. Miami is clearly in rebuild mode and having Lock learn from Fitzpatrick could be a good thing. This isn't the most ideal pick for the Dolphins, so perhaps trading back could be an option as they can acquire more picks for later years.
14. Atlanta Falcons: Christian Wilkins, DT, Clemson
Last year, the Falcons tried to address their defensive line issues during the draft, and they didn't do much, but with Wilkins they can't miss. Wilkins has good speed and athleticism as he showed in the national championship game as he was unstoppable. Him and former Clemson player, Grady Jarrett will make a fine duo.
15. Detroit Lions (proj. trade with Redskins): Devin Bush, LB, Michigan
The Michigan Wolverine stays in the state of Michigan. Making the trade to go back in the draft, the Lions still need linebacker help as they had the worst core last year. Bush is very explosive and will be interesting to see him last this long. The Lions defense could be a unit to keep an eye on.
16. Carolina Panthers: Jonah Williams, OT, Alabama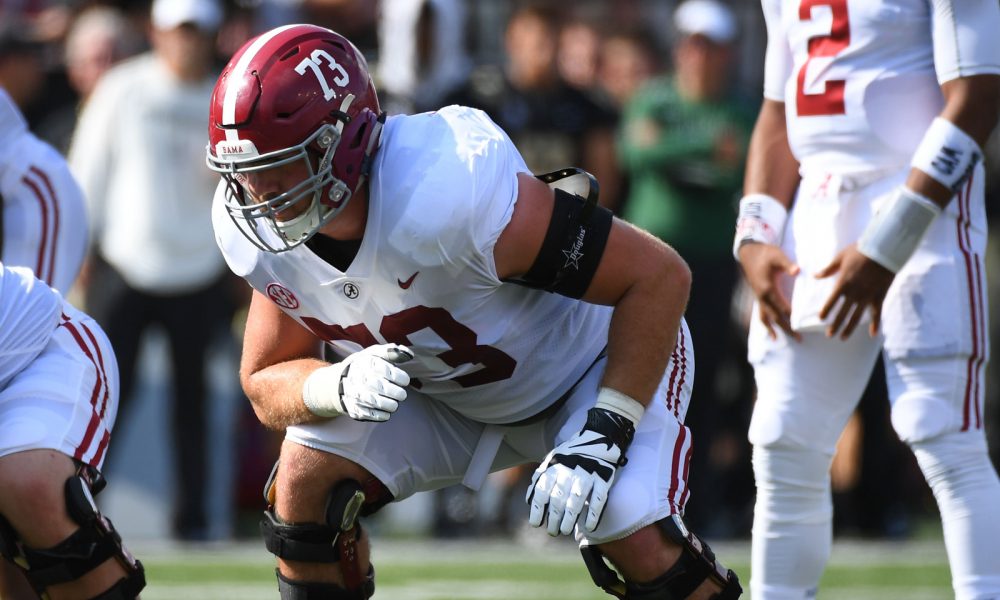 The Panthers are going to need tackle help as they need to replace Matt Kahlil. Last year, Cam Newton did get banged up a few times, (doesn't help that he runs and continues to take hits) so selecting Williams can limit the amount of sacks Newton could take and keep him in good shape.
17. New York Giants (pick from Cleveland): D.K. Metcalf, WR, Ole Miss
I still can't believe the Giants traded Odell, but they got to find his replacement and there's no one better than the physical freak in Metcalf. Yes still no QB, but instead the Giants will wait for a QB next year or trade with the Arizona Cardinals for Josh Rosen. Rosen looks like he could be traded for a third-round draft pick, so makes sense for the Giants to get a nice target for a QB they can get for cheap.
18. Minnesota Vikings: Cody Ford, OG, Oklahoma
The Vikings offensive line is going to take a beating as they must face the Bears defense and newly improved Packers and Lions defense. For the sake of Kirk Cousins, the Vikings need to address the offensive line and get some protection or it's going to be another rough season.
19. Tennessee Titans: Noah Fant, TE, Iowa
I'm going to take a different approach here for the Titans. A lot of people have them going after defense, with Brian Burns and Clelin Ferrell, which would still be good picks, but they did sign Cameron Wake, so perhaps they could wait for an edge rusher next year. The Titans need to get the offense going and it starts with the weapons for Marcus Mariota. Delanie Walker is bound to retire soon, so a threat like Fant would be a perfect pick-up.
20. Pittsburgh Steelers: Byron Murphy, CB, Washington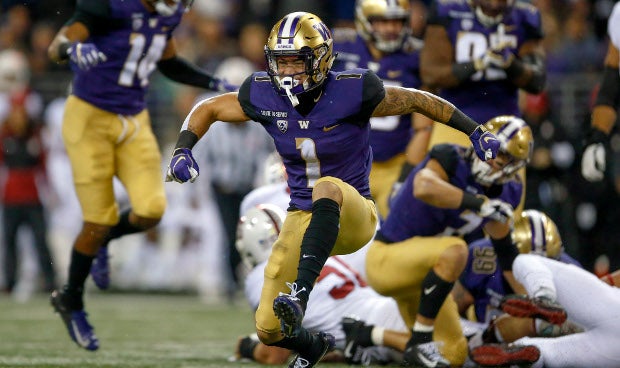 The Steelers should go with a linebacker, but I don't think Bush or White will be available for them and there's not much linebacking talent after them. So ,they got to upgrade the secondary. Murphy is a pick that would be nice as he brings ballhawking skills and toughness to the Steel city.
21. Seattle Seahawks: Brian Burns, EDGE, Florida State
Getting help for Frank Clark on the defensive line would be nice and Burns can bring that quickness and strength on the outside, but due to the recent rumors on Doug Baldwin, there might be a chance the Seahawks go with a receiver for Russell Wilson.
22. Baltimore Ravens: Parris Campbell, WR, Ohio State
Lamar Jackson needs some targets and it doesn't help that Michael Crabtree and John Brown aren't on the team anymore. Campbell brings a lot of speed to the table which is perfect for the Ravens offense. Campbell also has big-play ability, so I would be a fan of the Jackson to Campbell connection.
23. Houston Texans: Garrett Bradbury, C, North Carolina State
For the love of God, please get DeShaun Watson protection. There should be no reason why the Texans should go after another position outside the offensive line. There's a possibility that even the Texans could trade up to make sure they secure a top protector, but for Watson's sake, protect him!
24. Oakland Raiders: DeAndre Baker, CB, Georgia
After getting an elite pass rusher, the Raiders still need some help on defense and should start with their secondary. Baker is a top-three corner in this draft and could make a big impact for a unit that needs help.
25. Philadelphia Eagles: Chris Lindstrom, OG, Boston College
The Eagles got their running back by pulling off a robbery for Jordan Howard, so now they need to get someone for Howard to run behind and to keep Carson Wentz safe . Lindstrom is solid in all aspects of the game and showed good athleticism in the combine.
26. Indianapolis Colts: Dexter Lawrence, DT, Clemson
The Colts want to upgrade the team's defense and Lawrence can help do that as he was a dominant force at Clemson. Lawrence has plenty of value and could be a first round steal to whoever he goes to and it seems like the Colts are going to pull it off.
27. Oakland Raiders: Josh Jacobs, RB, Alabama
The Raiders missed out on Le'Veon Bell, but they could get a nice power and athletic back who can open up the offense. Marshawn Lynch's time is running up, so bringing in Jacobs in a run heavy offense, could do wonders.
28. Los Angeles Chargers: Dre'Mont Jones, DT, Ohio State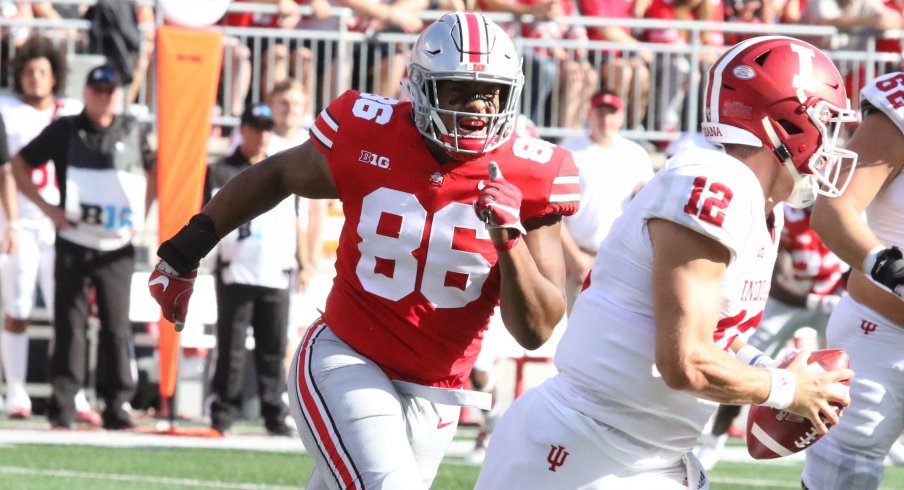 The Chargers have a talented roster from top to bottom and it's hard to find holes, but it showed in the divisional round against the Patriots where New England had a field day running the ball. Jones can help limit the run game as a strong interior lineman.
29. Kansas City Chiefs: Jonathan Abram, S, Mississippi State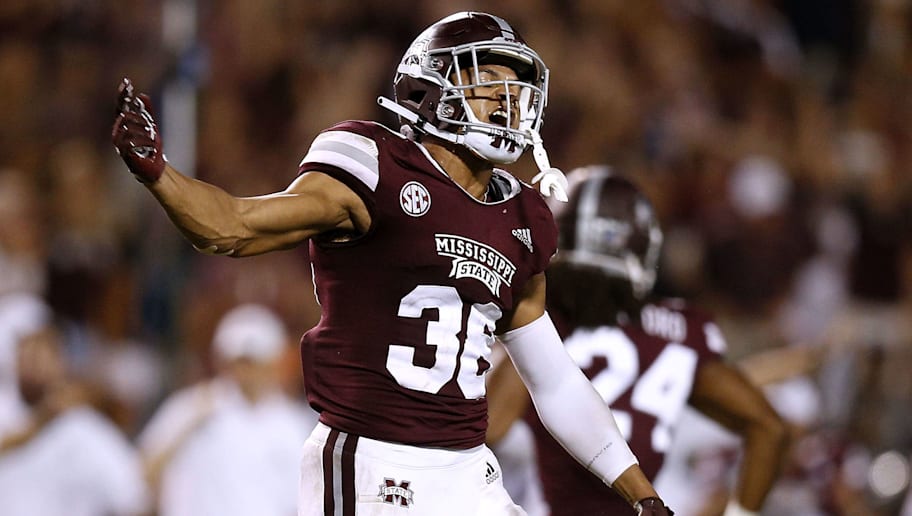 The Chiefs released Eric Barry and need to find his replacement. This isn't a draft class high on safeties, but Abram is the best available. Abram will go to a contending team with a big role as he looks to help solve the Chiefs secondary issues.
30. Green Bay Packers: Greg Little, OT, Ole Miss
Again, the Packers going with offense! What a time we live in. The Packers could go with A.J. Brown, but there's still a lot of talented WR's in the second round. The Packers need help up front for Rodgers and since injuries happen a lot for the Packers offensive line, Bryan Bulaga is set to become a free agent next year and head coach Matt LeFleur believes winning the trenches is pivotal for a good offense, Little seems to be their guy.
31. Los Angeles Rams: Greedy Williams, CB, LSU
The Rams secondary really struggled last year and it doesn't look like it will get better. Aqib Talib is on the back end of his career and Marcus Peters is inconsistent. The Rams may get a late round steal in Williams.
32. New England Patriots: Hakeem Butler, WR, Iowa State
With Gronk retiring the Patriots need a big target and that's what Butler can bring. A speedster with a 6'5 frame with great jump-ball ability, Brady will have a new favorite target down the field.