1. Arizona Cardinals: Nick Bosa, DE, Ohio State
The Cardinals don't have much rushers besides Chandler Jones. In a division with quarterbacks like Russell Wilson, Jared Goff and Jimmy Garoppolo, Jones needs help. Bosa has a great skill set and has showed it in the 2018 season before injuring his knee.
2. San Francisco 49ers: Josh Allen, DE/LB, Kentucky
Allen is perhaps my favorite defensive player in this draft. Allen is a dynamic edge rusher and can play anywhere you want him to play. Allen was a huge reason why Kentucky did so well this year in the SEC East. The 49ers need some help on defense and a rusher like Allen will help accompany Malcolm Smith and Solomon Thomas.
3. New York Jets: Quinnen Williams, DT, Alabama
After Bosa and Alen taken, Williams is the best player left in this draft and serves a big need for the Jets has they need help on the defensive line with Leonard Williams. After losing Mo Wilkerson and Sheldon Richardson last year in free agency, the Jets would find the best replacement in Williams.
4. Oakland Raiders: Rashan Gary, DE, Michigan
Remember when Jon Gruden said they needed a pass rusher? Well it would make sense for the Raiders to select Gary. Gary is an absolute freak of nature. There is some work that needs to be done on Gary, but if Gruden can polish him up, I believe Gary can become their new Khalil Mack.
5. Washington Redskins: Dwayne Haskins, QB, Ohio State
Yes, a trade! This trade must make sense for the Redskins since Haskins is by far the best QB in the draft and due to the Alex Smith injury, they really need a QB. There're reports that the Redskins could be interested in Daniel Jones, but I don't see any teams in need of a QB passing on Haskins. The Tampa Bay Buccaneers originally have the fifth pick in the draft, but since the Bucs have a QB in Jameis Winston, I feel the Bucs would be fine with the 15th pick and some additional selections.
6. New York Giants: Jonah Williams, OT, Alabama
With the Redskins taking Haskins right before them, I'm not sold on the other QBs in this draft. The Giants last year had one of the worst offensive lines in football and Williams will easily help improve the unit. Call me crazy, but I think Eli Manning can be just fine if he gets the protection, if not, the Giants can set up for Justin Herbert next year with an average offensive line.
7. Jacksonville Jaguars: Ed Oliver, DT, Houston
Again, with Haskins gone, I'm not sold on the other QBs, but I also feel that the Jaguars will trade for Nick Foles from the Philadelphia Eagles. Then, would make sense for the Jaguars to keep stacking up on defense as they could release Malik Jackson and/or Marcell Dareus due to salary cap issues, but would make sense to find a replacement for Calais Campbell since age is catching up.
8. Miami Dolphins: Kyler Murray, QB, Oklahoma
Another trade! Now, there's been talk that the Dolphins are ready to move on from Ryan Tannehill, so finding a new QB would make sense. It just happens to be that the new head coach for the Dolphins, Brian Flores, has the same agent as Murray. There's no guarantee that this could be a reason for Murray to get drafted by the Dolphins, but it helps that there is a need for a player like Murray. The Lions would have to get the Dolphins 13th overall pick and an additional pick, but with the defensive talent in the draft, the Lions might not have a problem with a trade.
9. Buffalo Bills: Jawaan Taylor, OT, Florida
With Jonah Williams off the board, the Bills must still select an offensive lineman and Taylor is the next big man up. The Bills selected Josh Allen last year and they need to protect their QB of the future. Allen did get banged up from time to time, especially since he loves running the ball, but with a top lineman, hopefully we can see more of that rocket arm.
10. Cleveland Browns: Dexter Lawrence, DT, Clemson
Another trade! With the Broncos trading for Joe Flacco, they have found their QB. The Browns are a perfect team to move up and select their guy with the boat load of picks they have. For the Browns, they form a devastating defensive line in Myles Garrett, Larry Ogunjobi and Lawrence.
11. Cincinnati Bengals: Devin White, LB, LSU
The Bengals are a tricky team. They can find a new QB, need help on defense or get better protection for Andy Dalton. I feel they'll go defense. The theme this year is defense and the Bengals need an athletic run stopper like White. White is also good in coverage as he is probably the rangiest. Would be a solid pick for the Bengals.
12. Green Bay Packers: Clelin Ferrell, DE, Clemson
The Packers are going to have an attractive pick as they might not get the best player like Allen and Gary, but the edge position is so strong this year that they'll end up with something good. If Ferrell isn't on the board, the Packers can still go Jachai Polite, Montez Sweat or Zach Allen. Ferrell is a very explosiveness pass rusher, a great run stopper and brings versatility to the Mike Pettine defense.
13. Detroit Lions: Greedy Williams, CB, LSU
The first defensive back off the board. The Lions already have Darius Slay who is one of the most underrated corners in the league, but Williams would be too good to pass up as he has great speed and size. If Williams does fall this far in the draft, this would be a steal for the Lions that need any kind of help on defense.
14. Atlanta Falcons: Jachai Polite, DE, Florida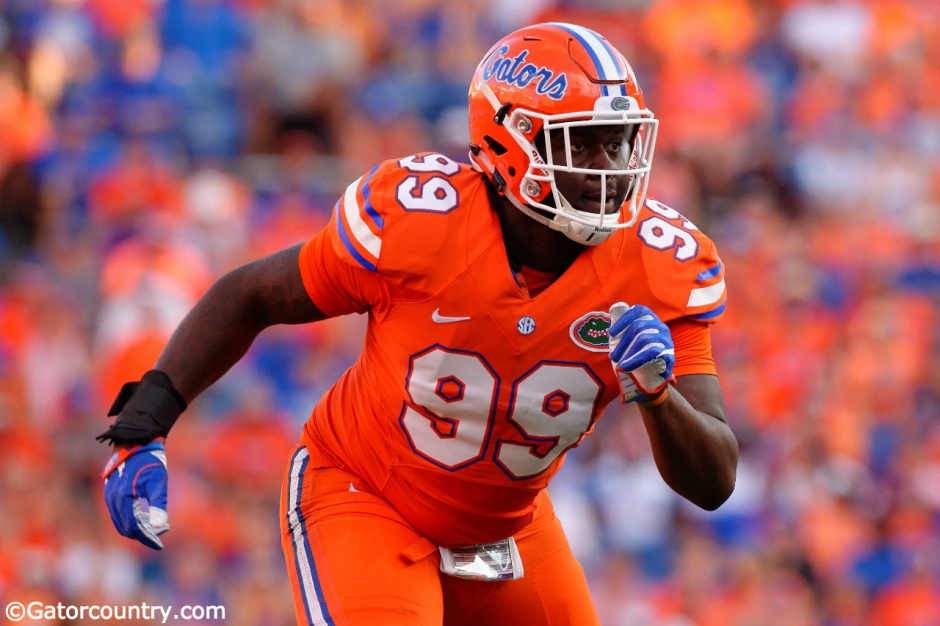 The Falcons are going to need help on the edge position as some of their most important defensive lineman head into free agency. Polite's is a little undersized, but he makes up for it with speed and athleticism that can make him into a dangerous pass rusher in the league.
15. Tampa Bay Buccaneers: DeAndre Baker, CB, Georgia
The Bucs traded back with the Redskins and it might hurt them a little as they'll loss out on Greedy Williams, but there's some nice corners left in this draft and Baker is one of them. He does lack in size at 5'11 but plays bigger than he is. Very physical corner and the Bucs need some sort of help in the passing defense.
16. Carolina Panthers: Deionte Thompson, S, Alabama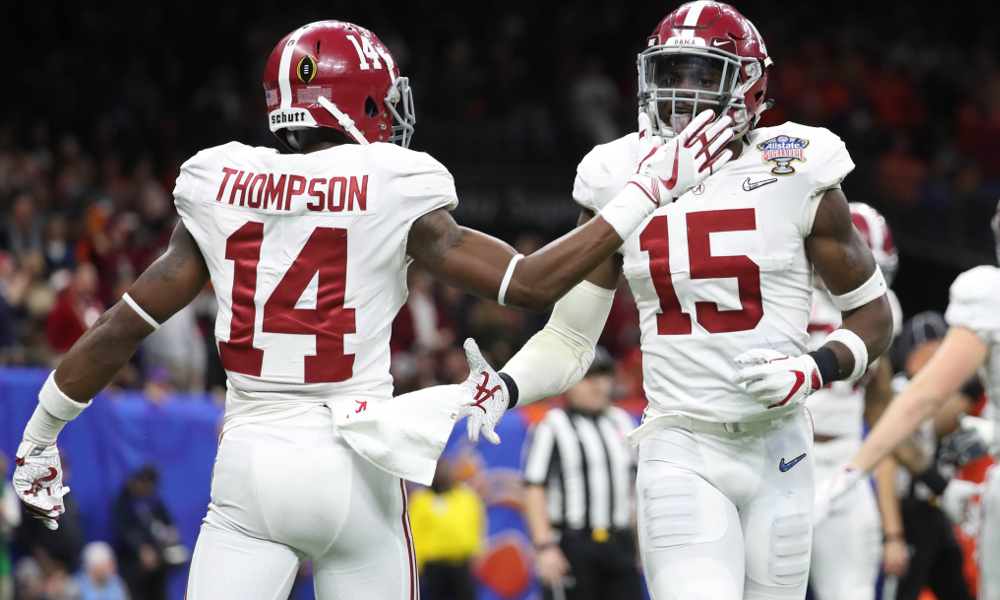 The Panthers had one of the worst safety plays in the NFL, so a player like Thompson should bring excitement. Thompson seems like he can do it all as he is a ball-hawk, run stopper and physical to cover tight ends. The Panthers would be thrilled to see Thompson last this long to them.
17. Cleveland Browns: D.K. Metcalf, WR, Ole Miss
Metcalf might not be the best WR on the board, some will say A.J. Brown could be that guy, but Brown doesn't have the size the Browns are looking for. Metcalf is 6'4, 230 pounds with tons of speed. That's a size of a WR1 in the league. The Browns need to push the ball down the field better and with offensive minded head coach, Freddie Kitchens, he seems like he won't be messing around with the passing game.
18. Minnesota Vikings: Cody Ford, OG, Oklahoma
The Vikings really need help up front. The Vikings allowed Kirk Cousins to get hit way too much and they had trouble running most of the season. Ford will easily help in both categories and hope to give Cousins more time in the pocket.
19. Tennessee Titans: A.J. Brown, WR, Ole Miss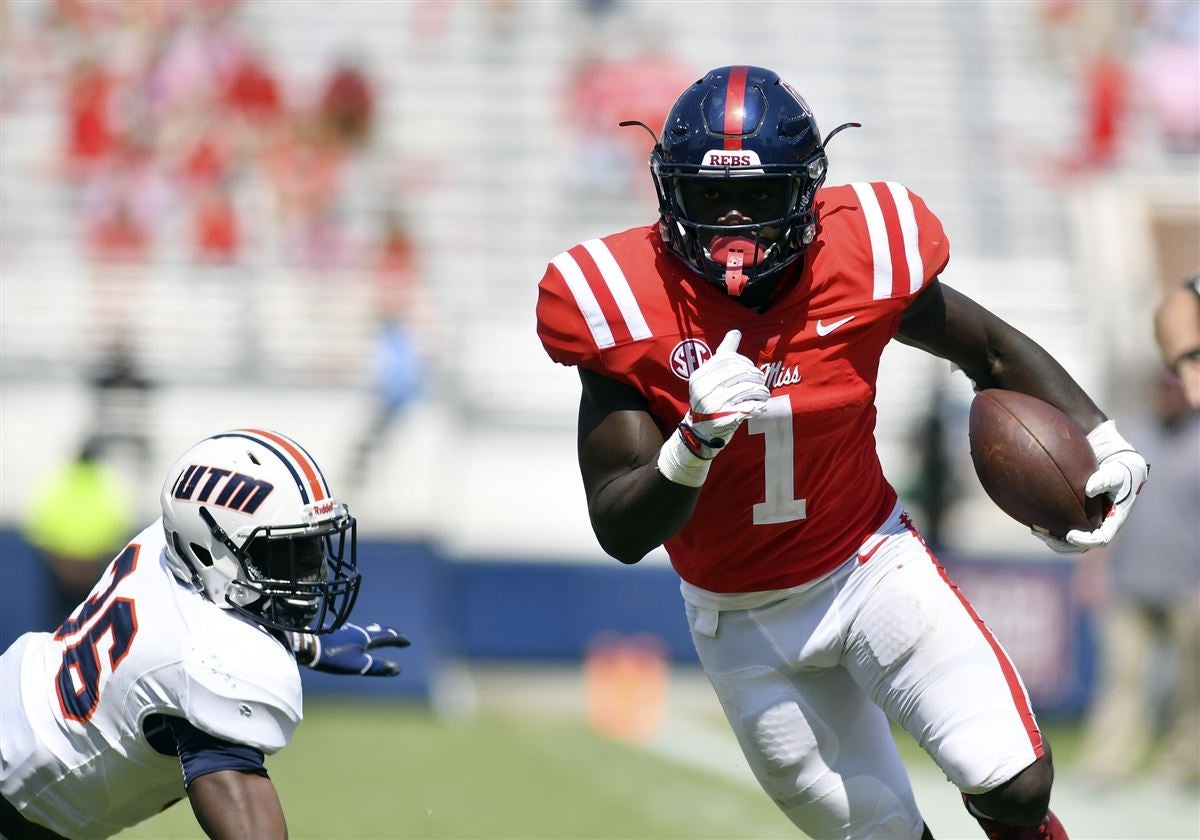 I would love to see the Titans pick up an offensive lineman to help Marcus Mariota but with Greg Little being the only highly praised lineman left, it's not much to do since the Titans have solid tackles. Brown on the other hand would be a great weapon for Mariota. Brown has the speed, quickness and ability to burst after the catch. With Corey Davis as the leading receiver, it would be nice to have Brown complement him.
20. Pittsburgh Steelers: Byron Murphy, CB, Washington
The Steelers defense really struggled last year in the passing game and they need some help. Joe Haden is a nice corner, but they need to find a player to be on the other side. Murphy lacks in size at 5'11 but he's very aggressive, speed and ball-hawking skills makes up for it.
21. Seattle Seahawks: T.J. Hockenson, TE, Iowa
Targets for Russell Wilson either keep getting hurt or leave in free agency. One of his key targets was Jimmy Graham, who left for the Packers. The Seahawks haven't had a viable intermediate target since he left. Hockenson could be better than Graham in Seattle as he's an all-around type player with great blocking and talented receiving skills.
22. Baltimore Ravens: Marquise Brown, WR, Oklahoma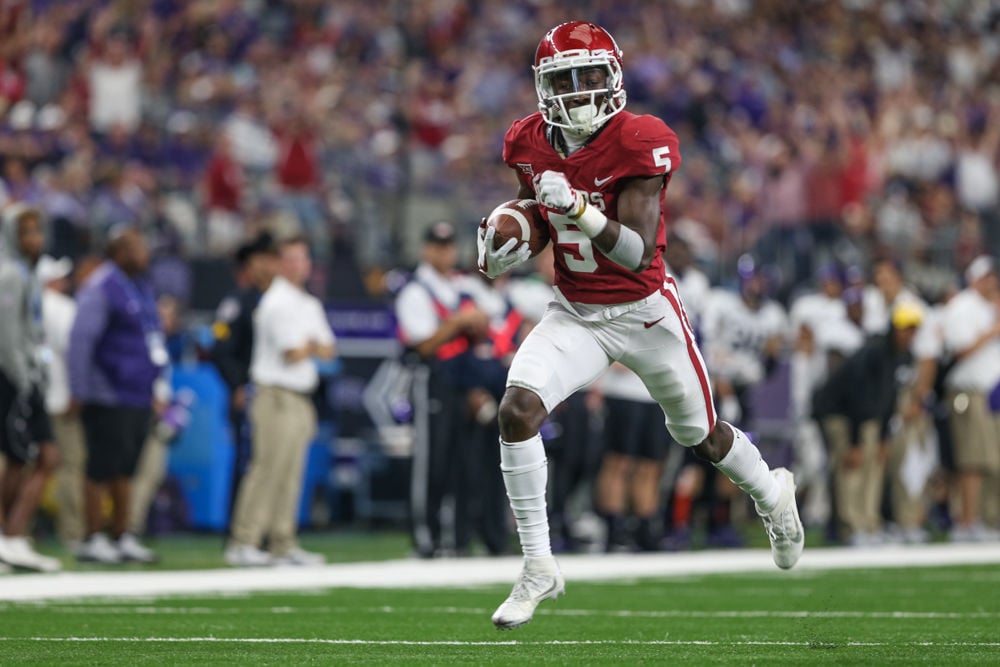 Lamar Jackson, realistically, can't run 15 or 20 times a game for the rest of his career. The Ravens need to get some receiving core weapons as they really don't have a long-term answer for Jackson. Brown lacks in size at 160 pounds, but with back-to-back terrific seasons at Oklahoma with Baker Mayfield and Kyler Murray, he should be a nice fit with Jackson.
23. Houston Texans: Greg Little, OT, Ole Miss
The Texans had to be by far the worst pass protecting team in the league. DeShaun Watson needs some help upfront and a good starting point will be with Little. Would be interesting to see if Little falls this far, but if the Texans pass on offensive lineman with their first pick, they should just end the season now.
24. Oakland Raiders: Kelvin Harmon, WR, North Carolina State
Well, the Raiders have to find a new number one receiver and Harmon has the build at 6'3, 214 pounds. Harmon is a speedy, big body receiver that Gruden needs in order to replace Amari Cooper.
25. Philadelphia Eagles: Josh Jacobs, RB, Alabama
The Eagles have been a committee team under Doug Pederson, but with injuries and ineffectiveness, they need a player that can complement Carson Wentz. Jacobs is a power runner who can make good cuts for his size. This can also take loads off of Jay Ajayi who has battled through injuries with his time in Philly.
26. Indianapolis Colts: Jaylon Ferguson, DE, Louisiana Tech
Colts defense did wonders last year but were 29th in adjusted sack rate, so the pass rush still needs some work. Ferguson is an elite rusher that many don't know about since he's in a non-power five conference, but he had a great Senior Bowl and was tied for the most sacks in the nation at 17.5.
27. Oakland Raiders: Dre'Mont Jones, DT, Ohio State
The Raiders selected Gary with their first pick, but they still need work on defense. Jones is a great interior pass rusher, but the big question that's going to hurt his draft stock is, can he bulk up and be used on every drive. The talent is there, but you need that talent to be out there on almost every play.
28. Los Angeles Chargers: Devin Bush, LB, Michigan
For the Chargers, they have Denzel Perryman who's set to leave in free agency and if he does leave, his presence will be missed. Bush is an explosive linebacker and could make a huge impact right away for the Chargers to finally get over the hump.
29. Kansas City Chiefs: Zach Allen, DE, Boston College
The Chiefs need help on defense. The ideal pick would select some secondary help, but there's not much early talent DBs left. Allen is very strong and has nice size but needs to develop speedier moves to get around the line. The Chiefs have nice ends with Chris Jones and Allen Bailey, but never hurts to have depth.  
30. Green Bay Packers: Noah Fant, TE, Iowa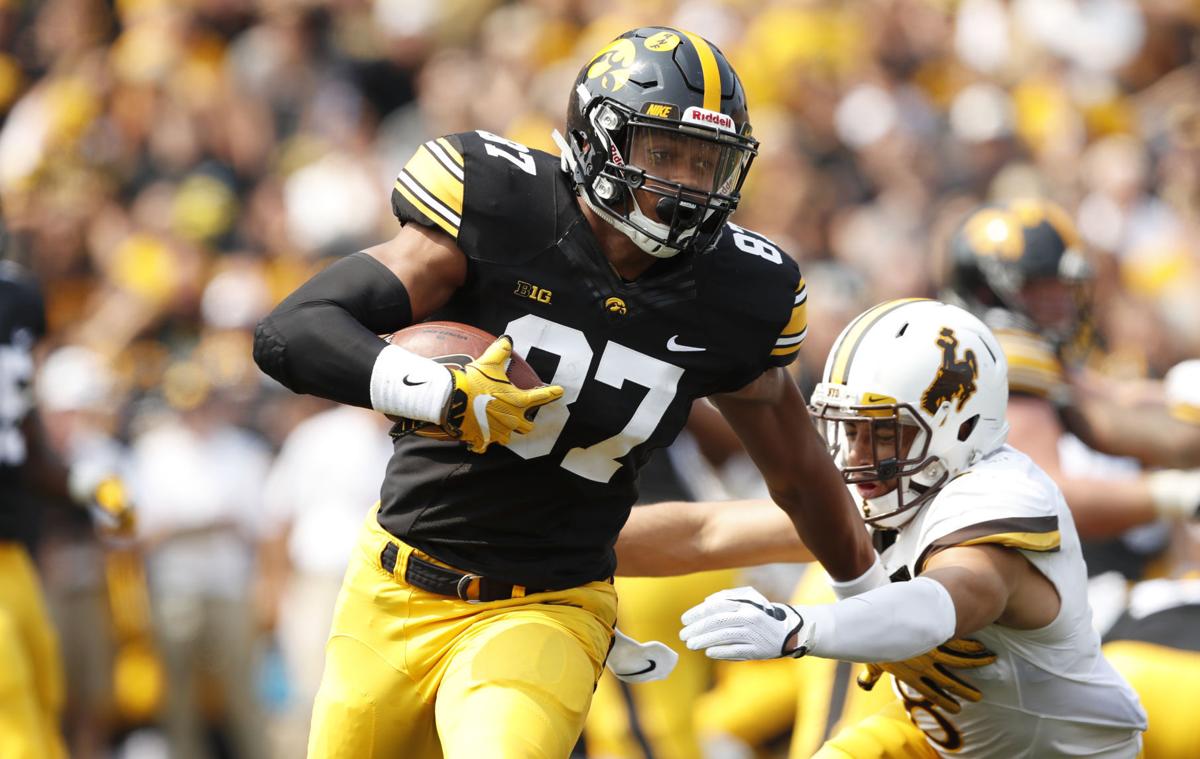 Before writing this I was huge on the Packers finding a receiver with this pick, but now the Packers will have a shot in the second round for N'Keal Harry, Parris Campbell and Deebo Samuel, so I think the Packers must go Fant. Fant is a big tight end that has an itch to find the endzone and makes big plays which is what Aaron Rodgers needs. This doesn't mean let Jimmy Graham go. Doesn't hurt the Packers to try a two TE system and have Fant and Graham compete for the starting job.
31. Los Angeles Rams: Brian Burns, DE Florida State
The Rams are going to have an interesting offseason as Ndamukong Suh could be player they move on from as the contract is just too much. If the Rams do decide to keep Suh, this would mean Dante Fowler might not be coming back as they can't afford him. Burns brings great pressure around the edge, so the Rams front could remain with the most dangerous defensive lines in football.
32. New England Patriots: N'Keal Harry, WR, Arizona State
Harry's draft stock dipped this season as he was projected to be the top WR in the draft class, but somehow the Patriots will get a shot for him. The Patriots lack in the receiver position and could be even tougher if Gronk decides to retire. Regardless, Harry is a big 6'4 target that Tom Brady would love to have to repeat as Super Bowl champions.